An Giang Province plans to expand its vegetable and other cash-crop cultivation areas that use advanced farming techniques to 7,000 ha by 2020, the province's People's Committee has decided.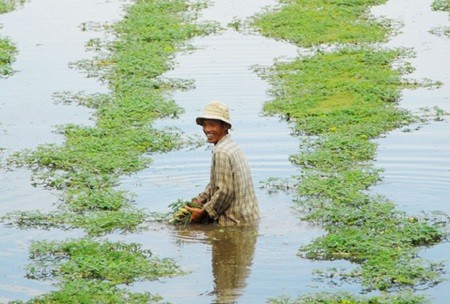 A farmer plants vegetables in An Phu District, An Giang Province. The province plans to apply advanced farming methods to enlarge cultivation areas. — VNA/VNS Photo Thanh Vu
These cultivation areas use agricultural machines, integrated pest management, drip or humidification irrigation, and net houses (a cheaper form of greenhouse that uses nets to cover the structure).
In 2012, An Giang began implementing the provincial Party Committee's Resolution 09 that called for the use of advanced farming techniques. Since then, many farmers have had higher profits.
The Cuu Long (Mekong) Delta province also plans to train more farmers in Vietnamese good agriculture practise (VietGAP) standards.
Farmers who use these advanced techniques earn at least 30 per cent more than farmers who use normal cultivation techniques.
The vegetables and cash crops cultivated are mustard greens, herbs, melon, taro, sweet potato, okra, sesame, soybean, peanut and maize.
The zoned areas in the province that use advanced farming techniques are in Cho Moi, An Phu and Chau Phu districts, Tan Chau Town, and Long Xuyen and Chau Doc cities.
Nguyen Van Thuc, who cultivates red chilli seedlings, red chilli and other vegetables in An Phu District's Khanh An Commune, said buyers prefer red chilli planted in net structures because the vegetables look clean and beautiful.
"Vegetables planted in these structures have a higher yield and lower production costs than those planted in the open," he said.
It costs about VND10 million (US$470) to build a 1,000sq.m net house from cajuput trees and net, he said, adding that the houses can be used for two years.
Nguyen Van Thao, deputy chairman of the An Phu District People's Committee, said the district has built two net houses and five polyethylene greenhouses with a total area of 16,006sq.m in Khanh An and Phu Huu communes.
These greenhouses are used for bitter lemon, gourd, mustard greens, tomato and red chilli and other vegetables.
An Phu District said it would encourage more farmers to plant vegetables in net houses and polyethylene greenhouses.
Lam Van Trieu, who grows gourd, Chinese lettuce, bitter melon and red chilli in four polyethylene greenhouses in An Phu, said he uses less fertiliser and no pesticides to grow vegetables.
The crops grow faster and yield a profit three times higher than vegetables planted in the open, he added.
In Long Xuyen City's My Hoa Hung Commune, many farmers grow vegetables under VietGAP standards.
In 2009, the commune set up a "clean" vegetable co-operative team with 16 farmers and a total cultivation area of 7.7ha.
The team, which now has 43 members and 13ha of vegetables, supplies 300-350 kg of clean onion, red chilli, herbs, and other vegetables for local markets.
The price of these vegetables is VND1,000 a kg higher than vegetables grown with a higher level of pesticides.
Nguyen Thi Xuan Loan, chairwoman of the Long Xuyen City Farmers Association, said the association would offer more farmers training in cultivation techniques and organise trips for them to learn about VietGAP standards.
"The city will encourage farmers whose fields are located in high areas to switch from rice to vegetables, using these farming techniques," she said.
An Giang, the delta's leading province in applying advanced farming techniques, has more than 60,000ha of vegetables and cash crops. The province's vegetables are exported to Cambodia, Japan, the US and Australia.