The government ordered the rate of private pre-schools account for over 70 percent by 2010. Although the Ho Chi Minh City has reached half of the required number, relevant agencies face pressure in controlling studying and teaching quality.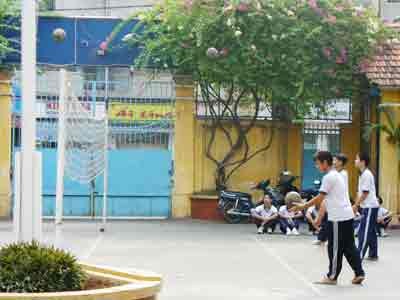 students of Tran Khai Nguyen High School in district 5 are playing sport. It has converted from self-financing institute into state school (Photo: Ngoc Anh)
In response to the government's appeal for social contribution to education sector, investors have opened many private facilities in the city. There are some kinds of educational institutes with different tuition fees including public schools, semi-public schools or self-financing facilities, private facilities and high quality schools.
Moreover, it takes time to check quality of these private and high quality schools. Tran Thi Ngoc Anh, head of the delegation of People's Council, said the city should not try to increase private schools or else it would place pressure on management of studying and teaching quality.
In addition, although private facilities have contributed to reduce pressure for public ones, they didn't enjoy tax exemption as an encouragement while tuition fee in private schools are high. High tuition fee hindered children of poor income families to continue their further schooling, said an education official.
The flip side in pre-school system in the city is that children of high income families study in public educational facilities while kids from meager income families have to learn in private institutes with high fee, said Nguyen Thi Kim Thanh, head of Pre-school Department, part of the city's Education and Training Department.
Educationists concerned training quality in senior schools since qualifying scores of students in private schools are always lower than their counterparts in state facilities. Most of students in high school come from rich families in southern provinces.
According to some educational experts, it seemed that the rich have had more choices with the plan to call for social contribution to education sector in recent years rather than the poor. Despite the sector's special treatment towards kids of poor families like exemption of tuition fee, their kids' studying pursuit is still a burden for them.
Tran Thien Tu, chairman of the Association of Businesses in IZ and EPZ (HBA), said it should clearly distinguish between state and private schools as the government produced self-financing schools as private facilities.
In addition, another form of schools has been produced – that is high quality institutes. Satisfactory standard facilities and teaching staff are requisites for a high quality schools as well as meet the demands of parents, according to Ta Tan, chief of district Tan Phu's Department of Education and Training while his counterpart in district Go Vap, Dang Thanh Tuan, said each district should select a few schools to become high quality schools.
Many districts have not changed any schools into high quality facilities because it needs a roadmap to convert public schools into high quality institutes and relevant agencies have to check for a time.


The city has just assigned project to call for social contribution for education sector to a group of educational experts including some foreigners. The group has worked out three methodologies. The first will maintain the same as the current; the second is that schools will be given the decision on tuition fee which relies on its quality; the third is that only a few state facilities will not collect tuition fee while others will be converted into private institutes.