National Assembly Chairman Nguyen Sinh Hung has urged leaders of Gia Lai province to increase investment in education, vocational training and culture to raise the living conditions for ethnic minorities in the Central Highlands.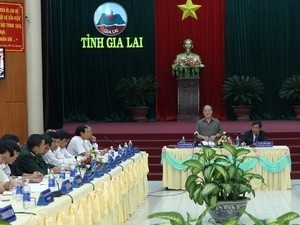 NA Chairman Nguyen Sinh Hung speaks to Gia Lai province's leaders (Source: VNA)
Chairman Hung made the statement at his working session with Gia Lai provincial authorities on Oct. 17, at the end of his two-day tour to the Central Highlands region to meet with voters and inspect the implementation of the Party and State's policies for ethnic minorities.
The NA Chairman pointed out shortcomings in vocational training for ethnic minorities which, he said, have hindered the implementation of solutions to boost socio-economic development in the region.
The Central Highlands should fully tap the region's potentials, especially the abundant young labor force, he said, adding education and training is a basic, long-term solution to create a breakthrough on the way to prosperity.
During his trip to Gia Lai, Chairman Hung met with Bahnar and Jrai ethnic voters in Dak Doa and Chu Pah districts to learn about their desires as well as the difficulties they face in daily life.
He suggested local authorities be more active in hunger eradication and poverty reduction efforts by organizing household economic models and craft villages and open classes on farming techniques for local people.