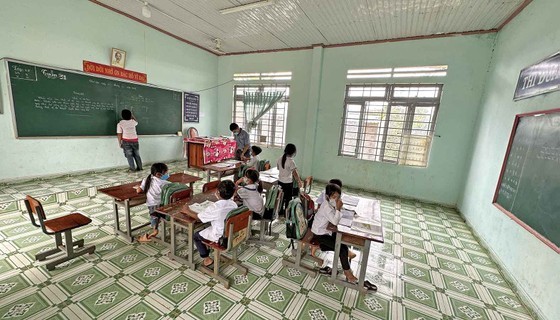 As the number of pupils is so low, children of different classes in Hamlet 4 site of Phuoc Cat 2 Primary School are put to learn in one classroom (Photo: SGGP)
The Hamlet 4 site of Phuoc Cat 2 Primary School (in Cat Tien District of Lam Dong Province) is located in the core of Cat Tien National Park. This is where S'Tieng and Ma peoples live. It takes several hours passing muddy paths and steep hills to reach the site. That is why the two teachers in charge of teaching all five grades of the site have to stay here all year round.
As the number of pupils is so low, teacher Nguyen Van Ngan is assigned to train Grades 1, 2, and 3 altogether, while teacher Duong Van Hien is responsible for training Grades 4 and 5. Being put in the same classroom, pupils of different grades are divided into separate parts of the room, and the blackboard is also split into sections for each grade.
Troublesome as it is, there is no better way to operate the classes, and these teachers have to exploit various teaching methods to ensure the lessons are learnt well. More worriedly, many of the pupils here are not fluent in Vietnamese, greatly affecting their absorbance of new knowledge. This has forces Hien and Ngan to learn ethnic languages to communicate with their pupils more effectively.
A similar situation can be found at H'Mong Hamlet site of Mac Thi Buoi Primary School, which is located in the core of Ja Wam Forest (Ea Kiet Commune of Cu M'gar District in Dak Lak Province). For the last 20 years, the school has assigned teachers to this site to teach literacy skills for young children living in the hamlet. Many teachers find it too challenging to travel between their accommodation and the school.
Teaching in such remote areas, most trainers have to stay at the site at least all weekdays, living in temporary shelters. "In the rainy season, the whole area might be separated from neighboring communities for several days. We have to borrow food from local residents here. At least with the mobile network coverage now, we still have a way to communicate with outsiders", admitted teacher Ngan.
Moreover, the temporary shelter has not been well maintained, leading to inconvenience for these teachers who have no other choices but to fix the room themselves to live. Sometimes when the wind becomes so strong or the rain is so heavy, they have to move to the classroom for safety reasons.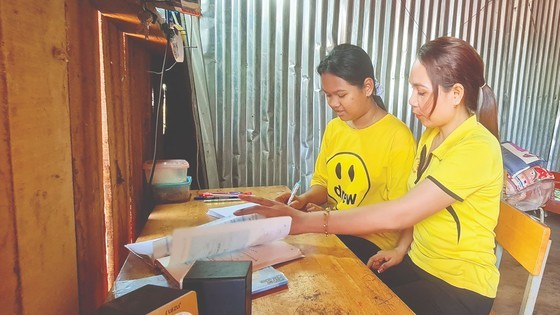 Living 60km away from school, teacher H'Tuyet from Mac Thi Buoi Primary School and her daughter have to temporarily stay in an old room behind the school site in H'Mong Hamlet (Photo: SGGP)
Principal Hoang Thi Hien of Mac Thi Buoi Primary School informed that the H'Mong site has neither electricity nor mobile network coverage. It is a real challenge to use modern educational tools in teaching, especially computer literacy.
Another sad fact is that in mountainous areas, ethnic people do not care much about obtaining literacy skills due to poverty. This has created more burden to the already heavy responsibility of teachers here. They frequently have to visit households of pupils who are absent from class for a long time in order to encourage those children to come back to school using every possible way. The cost of such visits (petrol, gifts) is the teachers' own expense.
To further retain the number of pupils in remote areas, many schools have offered free lunch, whose cost is paid by teachers themselves or sponsors. Although cooking lunch leaves teachers no time to rest, they still feel satisfied as long as their pupils can stay to learn.
Statistics of the Dak Lak Province Department of Education and Training reveal that from the academic year of 2018 to the first semester of this academic year, over 9,700 students in the provinces quit school, consisting of 1,327 children, 5,136 children, and 3,330 children at primary, junior high, and senior high levels respectively. The figure of Lam Dong Province in the academic year of 2021-2022 was more than 2,200 students. Most of them come from remote areas and are ethnic people.