CNN on Monday hit back at accusations by a top US State Department official that it had engaged in "distasteful" reporting by using the contents of a diary belonging to slain US ambassador to Libya.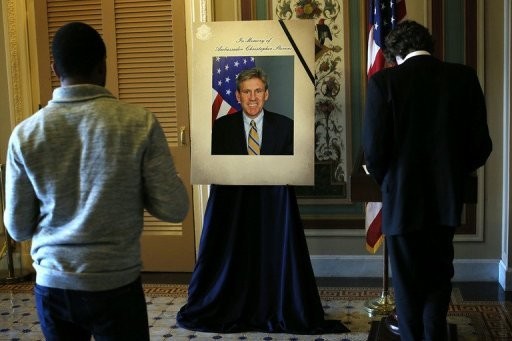 People sign a condolence book for Ambassador J. Christopher Stevens at the US Capitol September 14, 2012 in Washington, DC
CNN anchor Anderson Cooper argued that details about security at the US mission in Benghazi attacked by militants were important public information, even as a new expletive-laden exchange with the top aide at the center of the row emerged.
The State Department is still reeling from the death of ambassador Chris Stevens and three other Americans in the September 11 attack, and an FBI investigation has been launched as well as an official review of security.
Philippe Reines, a close aide of US Secretary of State Hillary Clinton, told reporters in a statement on Sunday that the US television network displayed "atrocious behavior" in using Stevens's diary against his family's wishes.
"I've said many things over the last few days about CNN. Much of it not very nice. But not one word was questioning anyone's right to ask questions. There are certainly questions to be answered," Reines told AFP late Monday.
"And there's nobody who wants those answers more than everyone at the State Department who worked with, knew, loved Chris, and are grieving over his death, and for the three Americans killed that night," he said in an email.
But he said the heart of the issue was his allegation that CNN broke its promise to the ambassador's family not to use the contents of the diary, which "was just wrong. Plain old wrong."
"If they believed the contents compelled them to report on them, then they should have simply explained that to the family that very first day."
Reines confirmed to AFP that Libyan security officials had been asked to secure the ruins of the mission after all the American staff were evacuated in the hours of the attack.
"It is not entirely clear if that happened or when. Obviously it was not secured when CNN went to the site of the attack," he said.
Cooper insisted the security concerns raised in the diary were important and said that "out of respect for his family we have not quoted from his journal, not once."
Reines was meanwhile embroiled in another row after a heated email exchange with a correspondent for the editorial website Buzzfeed about CNN's use of the diary ended in an string of crude insults between the two men.
The correspondent, Michael Hastings, sought some answers to what he called "inadequate security precautions" at the Benghazi mission.
But tempers were swiftly lost in the Sunday exchange with Hastings first accusing Reines of giving "bullshit answers" and Reines finally telling him "have a good day. And by good day, I mean Fuck Off."
Reines told AFP that the email exchange with Buzzfeed "speaks for itself."
Cooper meanwhile denied Stevens's diary had been widely read by CNN staff.
"It was not emailed around the newsroom as the US State Department spokesman said it was," he said, adding CNN correspondent Arwa Darmon had found it three days after the attack and "within hours" the family was informed.
"This was not broadcasting gossip from the pages of someone's diary, this was not reporting salacious details of someone's private life," he said.
"This was reporting information that could impact the national security of the United States, and the safety of US installations in other countries."