Manufacturing in China rebounded in August, surveys showed Wednesday, easing concerns the economy was heading for a sharp slowdown in the second half of 2010.
The turnaround was underpinned by domestic orders, but analysts warned that demand in the United States and Europe -- major buyers of Chinese-made shoes, electronic gadgets and clothes -- would weaken in the coming months.
The HSBC China Manufacturing PMI, or purchasing managers index, rose to a three-month high of 51.9 last month from 49.4 in July.
A separate survey published by a government agency -- the China Federation of Logistics and Purchasing (CFLP) -- showed manufacturing activity reached 51.7 last month compared with 51.2 in July.
A reading above 50 means the sector is expanding, while below 50 indicates a decline.
"This (data) reconfirmed our long-held view that China is moderating rather than melting down," said Qu Hongbin, chief economist at HSBC in Hong Kong.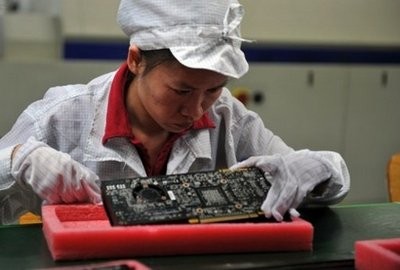 A worker inspects motherboards on a production line in the southern Chinese city of Shenzen.
"Domestic demand will be resilient to uphold around nine percent GDP (gross domestic product) growth in the second half and 2011, while export demand is more likely to turn worse in the coming months."
The Shanghai Composite Index, which covers A and B shares, rose 0.74 pct to 2,658.36 on the back of the data, dealers said.
Government analyst Zhang Liqun said the moderate rebound in manufacturing suggested there would not be a "big correction in the Chinese economy".
China's economy slowed in the second quarter, growing 10.3 percent compared with a blistering 11.9 percent in the first three months as government efforts to rein in soaring property prices started to bite.
Strong domestic orders saw the level of new business taken on by Chinese manufacturers rise moderately in August, following two successive months of contraction, Qu said.
"The overall rise in new work centred on the domestic market, with new export business falling slightly for a third month in succession," Qu said.
"Those respondents that reported a drop in foreign order levels generally attributed this to softer demand from external markets."
Analysts warned the manufacturing sector would face weaker demand in major export markets in the second half as the United States struggles to recover from the global recession and Europe deals with its debt crisis.
"It is not time to open the champagne just yet," said Brian Jackson, a Hong Kong-based senior emerging markets strategist at Royal Bank of Canada, referring to the rebound in manufacturing activity.
"We expect China will have a relatively moderate slowdown over the second half of 2010, but weaker external demand from the United States and Europe still represent a significant downside risk in coming months."
HSBC's results are based on interviews with purchasing managers at more than 400 companies, while the CFLP survey covers more than 700 firms.