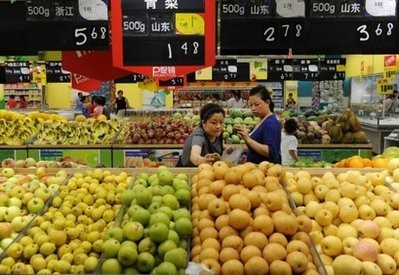 Chinese shoppers are pictured at a supermarket in Hefei, central China's Anhui province.
China said Saturday that consumer inflation rose at the fastest pace in nearly two years in August, as severe floods and unusually hot weather destroyed crops, driving up food prices.
The figure marked the 10th straight month that the consumer price index, a key measure of inflation, has risen, but analysts said they did not think it would be enough to prompt policymakers to raise interest rates any time soon.
Other key data released by the National Bureau of Statistics showed the world's second-largest economy remained robust last month, suggesting the Asian giant was not slowing as fast as many had feared.
The nation's consumer price index rose 3.5 percent on year in August, compared with 3.3 percent in July, the statistics bureau said.
It was the fastest pace since October 2008 -- the height of the global financial crisis when consumer prices rose four percent -- and above the government's annual target of three percent.
Food prices, a major component of the consumer price index, rose 7.5 percent on year, statistics bureau spokesman Sheng Laiyun told reporters.
The nation's worst flooding in more than a decade has ravaged food crops and disrupted transport links across the country, driving up the price of fruit, vegetables and meat.
Sheng however downplayed concerns about the rise in inflation, saying: "There are factors fuelling price rises but I think there are even more factors reducing prices."
He insisted it was possible for China to meet the government's three percent target.
Industrial output from China's millions of factories and workshops gathered pace last month, rising 13.9 percent on year in August compared with 13.4 in July, even as Beijing closed high-polluting operators and rationed power to energy-intensive industries.
Fixed asset investment in urban areas, a measure of government spending on infrastructure, rose 24.8 percent over the January-August period, slightly slower than the 24.9 percent in the first seven months of the year, as Beijing reined in spending.
Retail sales, a key measure of consumer spending, rose 18.4 percent on year.
Policymakers have introduced a range of measures this year to combat soaring property prices and torrid bank lending, amid fears of a real estate bubble derailing the economy, which overtook Japan in the second quarter.
Data released by the central bank showed new lending nevertheless rose slightly in August to 545.2 billion yuan (80.5 billion dollars) from 532.8 billion yuan in July, government data showed.
The statistics bureau brought forward the release of economic data by two days, triggering rumours that the People's Bank of China was planning to raise the benchmark deposit rate this weekend before financial markets reopen Monday.
The current benchmark one-year deposit rate stands at 2.25 percent, lower than the inflation rate. The central bank last adjusted the deposit rate in December 2007.
Analysts however threw cold water on the chances of an imminent rate hike, saying the recent spike in food prices was expected to be temporary and thus inflation would ease by year-end, giving policymakers a bit of breathing room.
"3.5 percent is fairly moderate and will not bring about a rate hike, not now, and I don't think it is going to happen for the rest of the year," Ken Peng, a Beijing-based economist for Citigroup, told AFP.
Brian Jackson, a Hong Kong-based senior strategist at the Royal Bank of Canada, said the inflation rate could force the hands of worried policymakers in the coming months, predicting a rate hike in the fourth quarter.
"I think they will need to response to these strong prices," he told AFP.