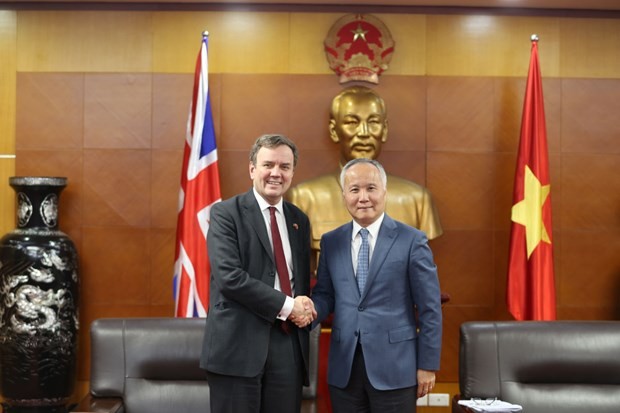 Minister of State Greg Hands of the UK Department for International Trade (L) meets with Vietnamese Deputy Minister of Industry and Trade Tran Quoc Khanh on February 1. (Photo: British Embassy in Vietnam)
The high-level trade talks focus on how the UK joining of the Comprehensive and Progressive Agreement for Trans-Pacific Partnership (CPTPP) will boost the economic firepower of the world's most dynamic trade bloc, according to the British Embassy.
Vietnam was the first leg of his three-day Asia-Pacific tour, which also includes Malaysia and Singapore. The visit aims to promote the UK's engagement in the CPTPP, of which Vietnam is a founding member.
It was also an opportunity to mark the 50th anniversary of the UK - Vietnam diplomatic relations and discuss the thriving bilateral trade relationship, which has increased 12.4% over the last year and is valued at GBP5.9 billion (US$7.3 billion), the embassy noted.
With the next round of CPTPP negotiations coming soon, the minister expressed the UK's desire to finalize accession at the earliest opportunity.
Speaking of his visit, Minister Greg Hands said: "Joining CPTPP will add even more economic firepower to this exciting and dynamic trade alliance, adding GBP2 trillion to CPTPP's GDP."