NEW YORK, Sept 19, 2010 (AFP) - Iran urged the United States on Sunday to free eight Iranians as a "humanitarian gesture," while freed American hiker Sarah Shourd made an emotional plea for the release of two compatriots.
"Iran was the country that released Sarah. We haven't even received a note from the United States on that," President Mahmoud Ahmadinejad complained in an interview with ABC's "This Week," calling Shourd's release "a huge humanitarian act."
"It would not be misplaced to ask that the US government should take a humanitarian gesture to release the Iranians who were illegally arrested and detained here in the United States."
Ahmadinejad did not elaborate on the identity of the Iranians he said were being held by the United States.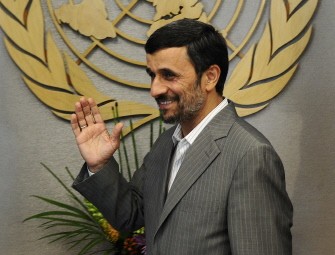 Iranian President Mohamoud Ahmadinejad arrives to meet with UN Secretary General Ban Ki-Moon at the UN headquarters in New York, September 19, 2010. AFP
But in comments to Iranian state television on Friday, he referred to "several Iranians it (the United States) has caught in Thailand, Georgia and elsewhere, or inside the US for exporting certain goods."
Shourd, 32, arrived at Dulles International Airport outside Washington days after being released on 500,000 dollars bail by Iran, which is still holding two other US hikers more than a year after they were detained along with Shourd.
She later drove up to New York, after Ahmadinejad arrived there ahead of the United Nations General Assembly.
Shourd told reporters she was crushed not to be sharing her freedom with her fiance Shane Bauer and friend Josh Fattal.
"My disappointment at not sharing that moment with Shane and Josh was crushing. And I stand before you today only one third free," she said, speaking alongside her mother and the mothers of her fellow hikers.
"That was the last thing that Josh said to me before I walked through the prison doors. Josh and Shane felt one third free at that moment and so did I."
Shourd refused to discuss her prison conditions in Iran, saying only that fears about her health -- her mother said she had suffered from a lump in her breast and a cervical condition -- were assuaged by a visit with doctors in Oman.
"I had many concerns while I was in prison about my health. And thankfully the doctors in Oman have assured me that I am physically well."
Bauer and Fattal's mothers said they were "encouraged" that Shourd's freedom might signal a step toward the release of their sons and said they had requested a meeting with the hardline Iranian president.
Asked wether Iran would respond to an appeal by the mothers of the two remaining American hikers for their release, Ahmadinejad said their cases were in the hands of the judiciary.
"They violated the law," he told ABC. "Do you want violators to be released? Is that what you're asking me?"
The three Americans were arrested inside Iran on July 31, 2009 after setting out on a hike from Iraqi Kurdistan.
They were accused of "spying and entering the country illegally," but the trio said they had inadvertently strayed across a rugged unmarked border.
Shourd strongly denied accusations they were spies.
"Shane and Josh do not deserve to be in prison one day longer than I was. We committed no crime and we are not spies. We in no way intended any harm to the Iranian government or its people and believe a huge misunderstanding led to our arrest and prolonged detention," she said.
US Secretary of State Hillary Clinton, in a separate interview on ABC, said she felt "great relief" that Shourd was finally free.
"I was so pleased that this young woman was able to come home," she said. "I want the other two young Americans -- Josh and Shane -- to come home as well."
Iranian media reports have said the United States is holding around a dozen Iranians in custody, with some detained in other countries at Washington's request.
They apparently include a former deputy minister, Alireza Asgari, who went missing in Turkey three years ago.