The agricultural sector has recorded an export turnover of nearly $31 billion this year, a year-on-year increase of 11.2 per cent, the Ministry of Agriculture and Rural Development reported yesterday.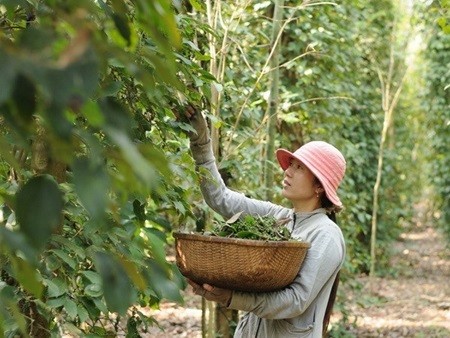 A pepper plantation in Gia Lai Province. Agriculture exports are nearing $31 billion this year, an increase of 11.2 per cent from last year, reported the Ministry of Agriculture and Rural Development (Photo: VNS)
Among the high export revenue earners were coffee, cashew, pepper and rice, the ministry said at a workshop held to review the sector's performance this year and discuss plans for next year.

Farm produce topping the US$1 billion export mark include rice, coffee, rubber, fruits and vegetables, shrimps, tra fish and forest products, the report said.
It was the first time that the export of Vietnamese fruits posted a turnover of more than $1.5 billion, a year-on-year increase of 34.9 per cent.
The agriculture sector's GDP growth rate was 3.3 per cent, higher than the set target of 3.27 per cent.
The results can be attributed to positive changes made in the agricultural restructuring process and effective implementation of the national programme on building new rural areas, said Agriculture Minister Cao Duc Phat.
Better disease prevention and control has also helped, he said,
Welcoming the achievements, Deputy Prime Minister Hoang Trung Hai said the agricultural sector still had great potential and advantages for further development.
He said this year's positive results would create the momentum needed for strong development of the sector in 2015.
However, he also pointed to several shortcomings.
Farmers' incomes remained low, the application of science and technology in agricultural production still lagged behind, there was gap between research work and their application in the field, and a lack of linkages between farmers, scientists and businesses, he said.
Hai said the agriculture sector needs to continue its restructuring process, increase output and quality of produce, and become more competitive.
He said the sector should implement policies to attract investment into processing and stressed the need to develop more export markets for farm produce.
Minister Phat said that the sector aims to increase its production value by 3.5-3.7 per cent in 2015 and reach an export turnover of $32 billion.
Towards this, there would be added focus on research to produce better crop varieties, apply modern technology in processing and preservation as well as reducing post-harvest losses, the Minister added.