ZeroStation of HCM City this week launched a new project called In/VISIBLE (AIS) Station that brings together 45 Asian artists and curators in the region.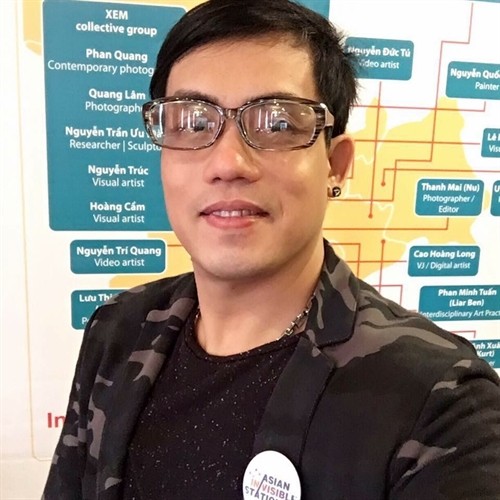 Visibility through action: HCM City-based visual artist, poet, songwriter and independent curator Nguyễn Như Huy, a member of project In/VISIBLE at ZeroStation. — Photo Facebook.com/nguyennhuhuy
The artists' works will be displayed in Việt Nam, Thailand, Myanmar, Japan, Singapore and Malaysia. Seminars, forums and talks about contemporary art will also be featured.
AIS is co-sponsored by the Chiang Mai Art Conversation in Thailand and the Japan Foundation Asia Centre, established in 2014 to carry out mutual exchange programmes in Asia.
The project will take place at studios and galleries in the region, such as New Zero Space in Myanmar, 3331 Arts Chiyoda in Japan and Post-Museum in Singapore.
Nguyễn Như Huy, visual artist, poet, songwriter and independent curator of ZeroStation, said the name In/VISIBLE means visibility that takes place through action.
"We want to support young artists, particularly Vietnamese, and introduce them to the world," said Huy, who is AIS's chief curator for the 2016-17 term.
"ZeroStation helps to connect the vision, thinking and knowledge of participating artists with local audiences through a more interactive approach," he added.
Born in 1971, Huy is among Việt Nam's most popular contemporary artists.
He collected as well as wrote essays in the book Tiểu Luận Về Nghệ Thuật Việt Nam Hiện Đại và Đương Đại (Essays on Modern and Contemporary Vietnamese Art), which focuses on art during the 1945-1990 period. The book was published in English and Vietnamese by the Singapore Art Museum in 2010.
In 2012, he wrote Video Art in Việt Nam - A Brief Report, which was included in the writing collection Video. It is stored at the Pompidou Museum in France and the Singapore Art Museum.
He has exhibited at home and abroad, including Japan, South Korea, Singapore, France, Sweden and the US, and was invited to talk at the Alternative Route: Art and Cultural Exchange in Asia, an international seminar on art in Yokohama, Japan, in 2013.
ZeroStation is working with photographer Phan Quang, performance artist Lưu Thị Hoài Trang, visual mapping artist Lê Thanh Tùng, video artist Nguyễn Đức Tú and filmmaker Trương Minh Quý.