The Government Inspectorate yesterday announced that Vietnam Southern Food Corporation (Vinafood2) and some subsidiaries broke many regulations in management, capital and asset use in 2012-2013 causing a total damage of VND206 billion (US$9.3 million).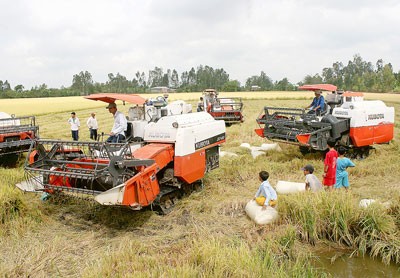 The Government Inspectorate on December 8 announced many violations at the Southern Food Corporation including those in rice purchase under the Government's stockpiling program (Photo: SGGP)
The parent company loaned and stood security for some companies to get loans not in accordance with regulations and beyond its competence with a total capital of VND1.78 trillion.
In the aftermath of these, Vinafood2 had to pay VND28 billion in debts by Hau Giang Joint Stock Company, faced difficulties in reclaiming VND80.16 billion of loans from To Chau Joint Stock Company and danger of paying VND93.42 billion bank loans for Binh Tay Company Ltd and VND57 billion for To Chau Company.
Capital contribution and use of VND47.21 billion in the establishment of Hoa Sen Shipping Company also showed many violations, inefficiency and state capital loss of VND23 billion.
The parent company's purchase of Vietnam Ocean Shipping Joint Stock Company's stakes worth VND60 billion and Samvi Mineral Water Company's stocks with a total value of VND14.41 billion did not follow procedure order and proved inefficiency. Besides, it bought Samvi shares worth VND455 million not by nominate value, did not receive annual dividend and must spend VND55.04 billion on provision for stock devaluation.
Vinafood2 also failed to abide by Government regulations on rice purchase for stockpiling, neither bought rice directly from farmers nor organized a purchase and sale system to ensure a profit margin of at least 30 percent for farmers.
Its dependent accounting companies broke regulations on organization and operation, purchase, sale and supply of goods and services with a total amount of VND62 trillion. They include Vinh Long, An Giang, Dong Thap, Tien Giang, Bac Lieu and Soc Trang food companies. These violations resulted in capital appropriation, bad debts and high risk of capital loss.
Some companies did not use capital and assets in accordance with regulations, had no measures to handle unused properties, signed contracts and made payments of projects without approved feasibility study.
They bought goods at a volume beyond norms set by the corporation, spent short term capital on shopping, raised fund without permission of the corporation with a total number of over VND3 trillion and US$63 million, reducing production and trading effectiveness.
Independent accounting companies also made many violations. Ho Chi Minh City Food One Member Company Ltd bought shares of Tam Phu Khoi with a total value of VND12.4 billion, conducted capital contribution without trading projects causing unprofitable investment and loss of VND6.1 billion.
Binh Tay Company Ltd paid VND1.44 billion for shares of Binh Tay Packaging Company without investment project and did not receive dividend in 2013. The process of goods purchase and sale was not close, contract signing and implementation breached regulations of the corporation with a total amount of VND2.22 trillion. These caused doubtful debts, ineffective business, loss-making forcing the parent company to provide for depreciation of long term financial investment and enter in the accounts in 2013 with a total amount of VND227 billion.
The Government inspectorate also announced many violations in land management and construction investment at the corporation and some without the Prime Minister's approval to suit targets, strategies and long term plans.
Implementation of these projects breached the law. Warehouse development was behind plan building only 35 out of 40 projects with total value of VND1.76 trillion, construction was slow, warehouse use productivity was low reaching only 30 percent of design, equipment use rate reached only 40 percent, the exploitation of these facilities did not suit designs reducing production and trading efficiency.
From inspection results, the inspectorate proposed the Government to instruct ministries and Vinafood2 to implement mechanisms to rectify management.
It also suggested the Government to handle violations of nearly VND206 billion, the Ministry of Agriculture and Rural Development and the Ministry of Finance to make related individuals and companies responsible for breaking regulations.
The corporation must carry out disciplinary actions for its violations, handle related teams and individuals and member companies for breaking capital use and management regulations with a total amount of VND9.9 trillion and US$63 million.