With the focus solely on honing players' football skills, clubs in Viet Nam are neglecting other larger lessons the footballers need to learn, social scientists warn.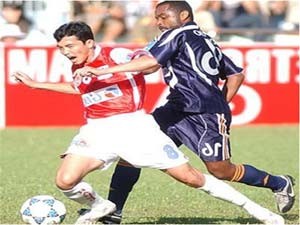 A scene of vying for the ball in a V-League 2008 match between Hoang Anh Gia Lai (left) and Da Nang (Photo: baovietnam.vn)
One commentator recalls his "strongest impression" of Pham Van Quyen, once the golden boy of Vietnamese football.
"[It] was at a ceremony held for him to join 'The family of Pepsi' in April 2004," he says.
"That day, dressed in a pair of jeans and T-shirt, Quyen was very shy as he shook hands with celebrities, particularly when he and pop star My Tam posed for a photo."
But now the commentator finds Quyen the most notable among footballers whose careers have nosedived because of their lack of discipline and self-indulgence.
Quyen, born into a poor family in a small village in Nghe An Province, spent most of his childhood herding buffalos. He had been brought up singly by his divorced mother. In his spare time, he played football using a pomelo for a ball.
Recognizing his talent, people encouraged Quyen to take a trial with V-League team Song Lam Nghe An. He passed the test easily.
He then began to spend most of his time practicing with his teammates. He also got to see them drink, gamble, and go around with young girls on their arms.
As his talent bloomed and he began to earn more money than he had ever imagined, he began emulating his seniors, taking to drink, gambling, and other vices.
Having nothing except ball kicking

Quyen came into the big league with almost nothing except his ball-kicking skills. Not unexpectedly, he was socially diffident, especially in the company of educated people. To cover up his humble background, it appeared, he put up a facade of luxurious living and cultivated "cool" habits.
When Pham Phu Ngoc Trai, general director of Pepsi Vietnam, asked him about his smoking habit, Quyen strongly denied it though, by that time, his smoking and drinking "skills" were reportedly on a par with his football skills.
This situation, where footballers from modest backgrounds falter after being thrust into the limelight, is partly due to their managers, who fail to teach them a healthy lifestyle. Nguyen Van Vinh, managing director of Hoang Anh Gia Lai, another V-League club, says they even get the players embroiled in fraud -- such as falsifying their age to play in age-limit tournaments.
Asked what can be done to address this persistent problem, he said every club should have a psychologist, like in many other countries, who can counsel footballers, particularly young ones, on moral and lifestyle issues.
He added that footballers' parents should pay more attention to educating their children and not entrust them totally to their teams.