The Vietnam Football Foundation (VFF) has offered Coach Henrique Calisto a new three-year contract with a salary of US$20,000 a month to exclusively coach the national squad.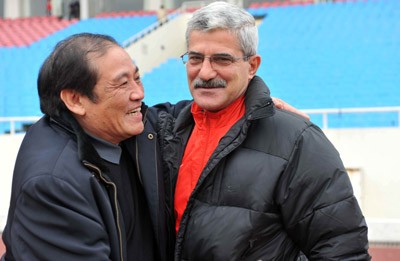 Vietnam Football Foundation Chairman Nguyen Trong Hy (L) speaks with Coach Calisto at a training session of the national squad in Hanoi. (Photo: SGGP)
Under the new agreement, Calisto will also be able to sign advertising contracts with companies such as Zorok beer and will receive housing and travel perks.
The contract was agreed upon after a four-hour negotiation between VFF and Calisto, although lawyers still need to work out some details including health insurance specifics.
Calisto was asked to lead the national squad and U23 squad as well as perform consultancy work for the U20 and U17 national squads, said VFF Vice Chairman Le Hung Dung, who negotiated directly with Calisto.
In addition, VFF has also asked Calisto not to sign any contacts with other clubs.
However, some have said Calisto might still be allowed to do consultancy work for some Vietnamese football clubs if it is good for Vietnam football in general.
Calisto said that if all the details can be worked out, he will sign the new contact with the VFF after returning from Portugal at the beginning of February.
The current contract between VFF and Calisto expires on March, 31, 2010.