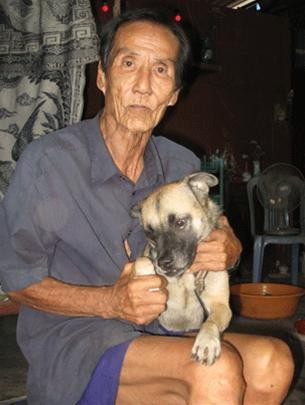 Goalkeeper Pham Van Rang now lives a lonely life in a small house with his pet (Photo:TTO)
Cherish your fame, don't squander your wealth.

This is the advice former national greats proffer after a spate of articles in the media recently highlighted the extravagant lifestyles of current football players.

Former goalkeeper Pham Van Rang, famous as Luong Thu Van Nang (…. As the most skillful goalie of that time), highlighted his own plight as he reminded them that the lifespan of a footballer is short, and they should use their fame and their riches wisely.

Rang now lives a lonely life, dependant on the support of fans and his old teammates. The former goalkeeper of the Asian football team was an idol in 1950s. He led a comfortable life and owned two houses in Go Vap District.

The turning point of his life was when was appointed chief of a customs department. He became a spendthrift, indulging in all the vices, and even sold his houses for the purpose.
After he lost all his money, he eked out an existence as a trainer for football teams at factories and schools for over 30 years; he even worked as a guard at a foreign-invested company at nights. Although he took many jobs, he could barely support himself.

Now, at 75, and suffers diabetes and heart disease. Without the care and aid of fans and former teammates, he would have died.

Tran Minh Chien recovers after surgery (Photo:TTO)
Through his own example, the veteran sportsman says he wants to open the eyes of young footballers who are in danger of "sinking in depravity".
Down on his luck

Two months ago, former striker Tran Minh Chien was a very worried man as he signed the papers for a surgery, because he did not how he was going to afford the hospital fee of around VND40 million (US$ 2,413).

He is out of work, so he has no medical insurance. In addition, he has to pay tuition fees for his eldest son and buy other things required for his education. The situation was so difficult that the he decided to pawn his house and motorcycle.

As the news of his plight spread, the Tuoi Tre newspaper appealed to the public for contributions. Readers, fans and officials of the Vietnam Football Federation responded with a VND45 million donation. Chien cried as he received the money.

He also expressed his regret for the old days when he did not ignored valuable advice and indulged himself in the good life. After he gave up his football career because of injuries, he has no one around except relatives.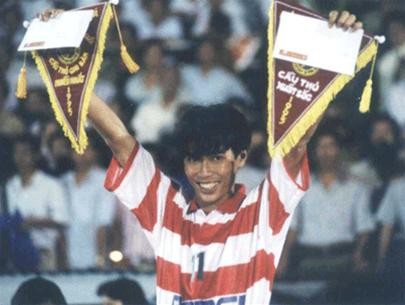 Tran Minh Chien gets awards while still being a football player (filed photo from Tuoi Tre)
Chien has had to work as peon, making tea, or cleaning floors in offices, and depend on his family to make ends meet. He was so depressed that he took to drinking.
Then he realized that he was hurting his relatives with his habit, and decided to finish his high school and take a training course held by the Asian Football Confederation to supply trainers for the city.

He has the same advice as Rang to current footballers and aspirants.