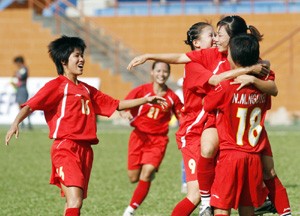 The joy of Vietnamese female players after winning the semifinal against Thai rivals

Vietnamese women persisted with their winning streak yesterday, defeating fancied rivals Thailand 2-1 in the semifinal of the ASEAN Women's Football Championship.
The victory takes the team to a final encounter tomorrow with Australia, who crushed Myanmar 5-1 in the other semifinal match.
Both goals for Viet Nam were scored by Tran Thi Kim Hong in 6th and 47th minutes.
Meanwhile, Viet Nam's U22 football team has entered the semifinals of the Merdeka Cup 2008 in Malaysia after it won two consecutive matches against Mozambique (4-0) on Saturday and Myanmar (3-1) on Thursday.