The chairman of Hoang Anh Gia Lai (HAGL) football club, Doan Nguyen Duc, signed a three-year contract with Vietnamese-American player Lee Nguyen, at the Rex Hotel January 17. His salary will be US$10,000 per month.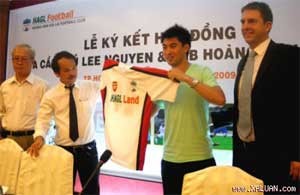 Lee Nguyen and HAGL's chairman, Doan Nguyen Duc, (Black tie) at the contract signing
Nguyen will play in the first match against The Cong, in his HAGL jersey January 18, at the Champions Cup tournament. Lee Nguyen will play as number 24.
HAGL followed Nguyen's career for over two years and took three months to negotiate the contract.
On October 15, 2008, Nguyen's father met with HAGL's managers to learn more about the team and the V-League.
On December 9, 2008, Nguyen played for HAGL in a match against Binh Dinh and scored three goals.
HAGL had previously signed a contract of US$50,000 with Lee Nguyen's agent.
HAGL has also had to pay compensation to Lee's club in Denmark, the Randers, for not completing the club's contract. However, the amount of compensation has yet to be revealed. HAGL's foreign partner covered this compensation without refund from HAGL, but in return, will have exclusive rights to use Nguyen's image and brand name in Vietnam and in Asia.
Mr. Duc noted that Lee Nguyen will accompany HAGL during the V-League 2009 and possibly later join Arsenal for training. This is good training for the player, not only to improve his skills but also to improve and promote his image around the world.
About Lee Nguyen.

Lee Nguyen, 23, was born in Texas, US. Lee played for Randers FC in Denmark's Premier League. Randers FC is currently mid-table. He played for PSV Eindhoven, Holland for two years (2006-07). He has played for US U21 & the national team. His first international for the US was June 2, 2007. He played the last ten minutes, partnered with Landon Donovan, in friendly against China. US won 4-1.