An earthquake rocked eastern Turkey late Wednesday, killing seven people and toppling buildings less than three weeks after a massive quake killed more than 600 people in the same area.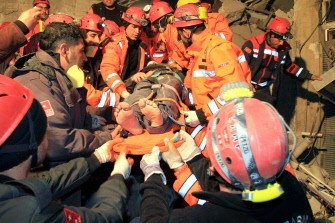 Rescuers carry a survivor from a collapsed building after an earthquake in Van, eastern of Turkey, on November 9, 2011.
Television footage showed rescue teams searching through the rubble trying to find possible survivors after the 5.6 magnitude quake struck near the city of Van, sending two hotels and about two dozen other buildings crashing down.
The death toll has been put at seven, while 23 people were found alive, according to a goverment disaster management agency. It was not clear how many people remained trapped under the rubble.
The quake sowed fresh panic among residents still struggling to cope after the deadly 7.2 magnitude earthquake which struck the region on October 23, killing more than 600 people and injuring more than 4,150.
Two of the collapsed buildings were hotels, private NTV television said, including one six-storey building in the Van city centre which was mostly occupied by journalists and teams from the Turkish Red Crescent.
Nine planes carrying almost 300 rescuers were dispatched to the region, national television said, as rescue operations were carried out with mechanical diggers under arc lights.
Of the 25 buildings that collapsed, 22 were empty, Foreign Minister Ahmet Davutoglu said from the scene.
"Search and rescue operations are continuing in three buildings," he added.
Wednesday's quake occurred at 1923 GMT, with the epicentre in the Edremit district, some 15 kilometres (nine miles) from Van province, according to the Istanbul-based Kandilli Observatory. The USGS put the magnitude at 5.6, after having earlier put it at 5.7.
The number of people in the hotels was not known, which was why the toll might rise.
The US Geological Survey said the epicentre was 16 kilometres (10 miles) south of Van, with its depth given as five kilometres (three miles).
Experts told Turkish television stations that a moderate quake of 5.6 magnitude would not cause any human or material loss under normal circumstances.
However, the fallout from the latest quake could grow because of the fact that the buildings which were damaged in the previous quake were not entirely emptied.
"It would be premature to say if it is an aftershock or an earthquake," Kandilli Observatory Director Professor Mustafa Erdik told NTV. But in a later announcement, the observatory said it was a separate quake.
In the October quake, Turkey accepted help from dozens of countries, including Israel and Armenia, both states with which it has frosty relations.
That tremor destroyed many homes in Van province near Iran, including more than 5,000 in the regional capital of Van, provoking claims that building standards had been flouted.
Many survivors were forced to camp out in tents or makeshift shelters, fearing further building collapses with rain and snow adding to their misery.
Turkey is earthquake-prone due to being crossed by several fault lines.
In 1999, two strong quakes in the heavily-populated and industrialised regions of northwest Turkey left some 20,000 people dead.