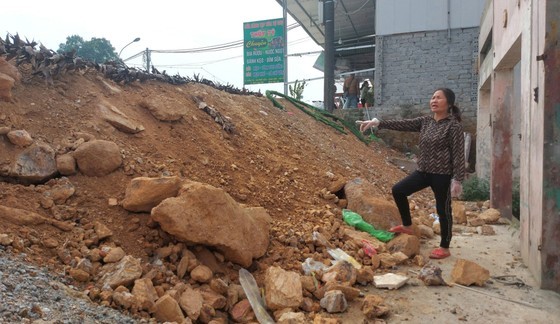 Tran Thi Thanh from Tan Tien Village of Phu Loc Commune is standing in front of her house, which becomes much lower than the newly upgraded road section. (Photo: SGGP)

36 families sited next to the one-kilometer section upgrade of National Highway No.19 (from Bau Sen Bridge to Ba La Bridge in Tay Son District of Binh Dinh Province) have complained that the ground is raised so high that their houses suddenly become like a tunnel.
That results in much dirt in the sunny season and frequent flooding in the rainy one. However, Deputy Director Le Minh Nam of the Management Board for Project 2 (in charge of upgrading this section) stated that his unit just follows the approved design.
Sharing a similar situation is the building of car bridge No.9 (sited in Phu Loc Commune of Can Loc District in Ha Tinh Province) on National Highway No.15 (in the project to upgrade Linh Cam Main Canal – the second stage of Ngan Truoi – Cam Trang irrigation system, with a total capital of VND1.4 trillion (US$59.6 million)).
When finished, the new bridge is 1.58m higher than the old one, so the paths at both ends of this bridge must be raised as well. That means houses along these paths become much lower than the ground.
Director Nguyen Trong Tam of the Management Board also stressed that his team are strictly observing the design and right on schedule of the project. Right now, the local authorities are studying inadequacies in daily activities of 19 related households here to prepare a report submitted later to competent authorities for corresponding support measures and policies.