TRIPOLI, Aug 21, 2011 (AFP) - Libya's capital Tripoli is well-defended by "thousands" of troops, a spokesman of Moamer Kadhafi's regime said on Sunday.
"We have thousands of professional soldiers and thousands of volunteers protecting the city," Mussa Ibrahim told reporters in Tripoli after rebels claimed to have launched an operation to isolate the Libyan strongman.
Ibrahim did not comment on the rebel claim.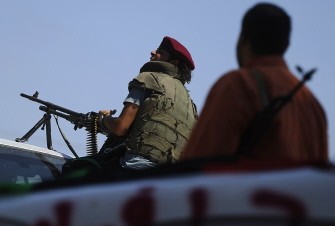 AFP - Lybian rebels take position during fighting against regime forces near the Gadayem forest, west of Tripoli, on August 21, 2011
But he charged that NATO had helped rebels with aerial coverage, weapons, information and logistical support and blamed alliance member countries for the bloodshed in Libya.
"People are being executed in the streets of Zawiyah, Gharyan, (the western suburb of) Janzur," Mussa said.
"The most important thing for NATO is the fall of the Libyan government," he said, adding the western alliance has "intensified an immoral campaign against our people."
Ibrahim also accused the insurgents of carrying out 34 executions in recent days, without specifying where and said the rebels were also responsible for several rapes in Sorman in the west of the country.
After a night rocked by explosions and gunfire, the Libyan capital fell quiet on Sunday afternoon, an AFP reporter said.
But witnesses said gunfire could still be heard in several neighbourhoods, including the eastern suburb of Tajura.
In Benghazi, rebels said an operation dubbed "Mermaid" is underway in the capital with the goal of isolating the veteran leader and forcing his surrender or departure.
Libyan rebel spokesman Ahmed Jibril earlier said operation Mermaid is a joint effort between the Benghazi-based rebel National Transitional Council, insurgents fighting in and around Tripoli and NATO forces, adding it would last several days "until we surround Kadhafi" to force him "either to surrender or to escape."