Thailand's premier on Friday reassured Bangkok's 12 million residents over a looming flood crisis, after an evacuation false alarm briefly sparked panic and people stockpiled food and water.
Massive efforts are under way to prevent the densely populated capital from being inundated by the country's worst floods in decades, which have wreaked havoc in north and central Thailand, leaving at least 289 people dead.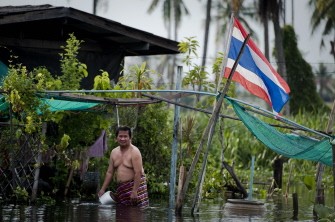 A Thai man stand infront of his flooded house near the Chaopraya river in Bangkok on October 14, 2011.
Prime Minister Yingluck Shinawatra said on Friday that the situation was under control.
"The water level is stable and not increasing. So I would like to ask people not to panic," she told reporters.
Some residents in Bangkok's northern suburbs rushed to move their belongings to higher ground late on Thursday after a government minister warned there was a risk of one-metre (3.3 feet) deep water owing to a burst dyke.
But the authorities quickly backtracked, causing confusion among residents, some of whom have been piling sandbags outside their properties and buying flashlights, bottled water, nonperishable food and other essential items.
In the Bangkok suburb of Saimai, local authorities received hundreds of phone calls from concerned residents after Thursday's evacuation alert, district chief Nongpanga Boonpaksa told AFP by telephone.
"There were some frantic traffic jams in our district because people were trying to move their cars to higher places but the situation later returned to normal," she said.
About 110,000 people around the country have sought refuge in shelters in the face of the floods that have destroyed crops, inundated hundreds of factories and damaged the homes and livelihoods of millions of people.
Currently 26 out of 77 provinces are affected, but conditions in inner Bangkok and at most of Thailand's top tourist destinations are mostly normal.
Heavy rain drenched the city again Friday, and this weekend Bangkok is bracing for a large amount of run-off water along with seasonal high tides that will make it harder for the flood waters to flow out to sea.
But the authorities said they remained confident they could prevent serious flooding in the low-lying capital.
"Bangkok will definitely not be affected by floods," said Justice Minister Pracha Promnog, who heads the government's flood relief centre.
"Bangkok is our capital city. We must fully protect it."
Sandbags have been piled in front of homes and businesses in preparation for possible inundation, while some residents have opted to leave their vehicles in multi-storey carparks in the city to avoid possible flooding.
At the Big C Extra supermarket in Ladprao, customers have been stocking up on instant noodles, canned fish, rice and water, said section manager Teerayuth Siriutain.
"Each day when we open the store, we place our goods on shelves... but it's not enough," he said. "Those consumer goods were sold out before noon every day."
Central Bangkok is protected by flood walls and the authorities have bolstered defences along the Chao Phraya River to try to keep water out of nearby areas, whose residents are no strangers to seasonal floods.
The authorities have said they will dredge and drain canals to allow more water to flow through.
Bangkok's Deputy Governor Pornthep Techapaibul said that the main challenge was from people overreacting.
"The problem is not from water but it's the people -- people who are panicking and frustrated that their houses were flooded while others' were not," he told reporters
The operator of the city's subway temporarily closed some entrances to set up flood barricades, but the services were still running as usual.
The floods have dealt a heavy blow to Thailand's economy, leaving hundreds of factories under water.
Japanese automakers including Toyota have suspended production in the kingdom due to water damage to facilities or disruption to parts supplies.
Toyota said Friday said it would extend the production halt in Thailand until at least October 22