Jova lost its hurricane status Wednesday but remained a deadly threat as a huge storm system, dumping torrential rain across much of Mexico's Pacific coast and triggering flooding and power cuts.
The weakened system, now a tropical depression, had roared ashore in Jalisco state Tuesday as a category two hurricane.
At least two people were confirmed dead Wednesday when a 21-year-old woman and her five-year-old daughter were swept away by flood waters in Jalisco.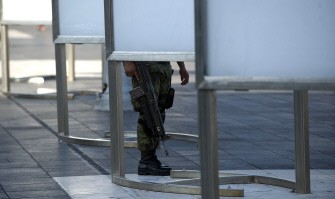 Mexican soldiers patrol the port in Veracruz, on October 12, 2011
Despite rapidly losing its punch, Jova was still packing strong gusts a day after making landfall, with sustained winds topping 55 kilometers (35 miles) per hour.
Jova uprooted trees and knocked down protective walls as it lashed western Mexico, with officials warning of flash floods and mudslides.
The system was moving inland at about six miles (nine kilometers) per hour and was expected to weaken further, eventually dissipating on Thursday, but Jova's "heavy rainfall remains a major threat," the Miami-based National Hurricane Center reported in its latest bulletin.
Despite the downgrade, Jova could deposit as much as a half-meter (20 inches) of rain in some areas, with downpours creating perilous conditions in parts of the popular tourist destination of southwestern Mexico.
The heavy precipitation could cause "life-threatening flash floods and mudslides over steep terrain," the NHC said.
Meanwhile to the south, at least 19 people were killed when torrential rains brought by a separate storm system hit large swaths of Central America, with more than 40,000 people hit by flooding and landslides.
Guatemala was worst hit by the heavy rains dumped by tropical depression "12-E," with President Alvaro Colom saying at least 13 people were killed, while El Savador recorded two deaths and Nicaragua saw at least four deaths.
Jova battered Mexico just as thousands of athletes from around the world began arriving for the Pan American Games, which begin on Friday in Guadalajara, the Jalisco state capital more than 100 kilometers (60 miles) from the coast.
Authorities have insisted the games, one of the premier events on the global sports calendar, would not be affected.
Mexican troops on Wednesday patrolled the streets of Manzanillo, some 800 kilometers (500 miles) west of Mexico City where the storm crashed ashore. Some of the busy port was under more than a meter (three feet) of water, according to an AFP photographer.
All port and marine activity has been halted there, and several beachfront restaurants were under threat as a retaining wall collapsed. Several communities experienced power outages and some schools canceled classes Wednesday, while 170 people living in high-risk areas moved to shelters.
Several major storms or hurricanes have buffeted Mexico's Pacific coast in recent months but most have remained offshore.
The season's first named storm, Arlene, left at least 16 people dead and drenched much of the country in July.
Tropical storms and hurricanes last year caused flooding and mudslides in Mexico that killed 125 people, left hundreds of thousands homeless and caused more than $4 billion in damage.