Job instability and lower incomes compared with other sectors keep young people out of social work even when they graduate in the subject, a seminar at the HCM City Open University heard last week.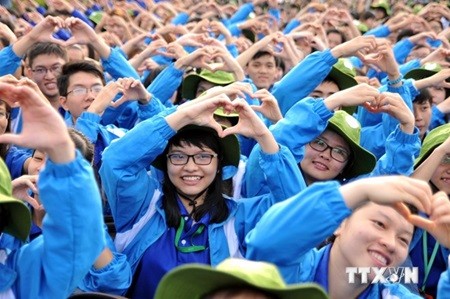 Only an estimated 10 percent of social work graduates work in social sectors, but the ratio has increased in the last two or three years. — Photo VNA
Tran Huu Phat, a fourth-year student of social work, spoke about the salary issue as did other students.
The Dong Nai native told Viet Nam News after the seminar that he applied to study social work at university after carefully researching the sector as a way to challenge himself since this is a newish kind of work.
While at the university he recognised he had a passion for the work, and was so eager to graduate and become a social worker.
But he was disappointed recently to find out that social workers are not paid well — just VND4-5 million (US$190-238) monthly. He does plan to apply for a job as a social worker, but if the salary remains low, he will switch careers.
"To be a social worker is my passion, but I cannot afford to do it with a low income since I have to plan for my future and family and support my parents," he said.
"I don't need a high salary. I hope to get enough money to survive. It is unfair that the salary of a social worker is lower than others'."
It is illogical for someone to spend most of their time and energy on worrying about society while not being able to take care their own family, he said.
Other students expresses a similar view.
Huynh Gia Hien, a third year social work student at the university, said: "I am a social worker. If my living condition is not stable when the programme ends, I will quit my job. In preventing corruption, why don't we have a policy of helping social workers achieve better living conditions?"
Phung The Kiet, 22, a new social work graduate from the university who now works as a volunteer at NGOs, said he decided to study social work because he could earn money and also get opportunities to help others.
"I have just graduated. I don't worry about being unemployed. There are so many job opportunities, because recently the government has Scheme No.32 to assist this sector. However, many graduates expect a very high salary. It's hard."
Kiet said he would continue in this sector, pointing out that those with enthusiasm and a kind heart can pursue this career.
But he admitted that out of 25 students in his class, only five want to do so.
He now relies on his family's support but hopes to get a stable job to cover his expenses.
Le Bich Phong, a social work graduate from the HCM City Open University who now works for Life Centre, too said that not many of his classmates have entered the field.
"Mine was the first batch at the HCM City Open University's social work department and had 174 students. However, at a recent reunion, we found that less than 10 from my class are social workers."
He explained that in developing countries the condition of social workers is unstable.
But Le Thi My Hien, director of the HCM City Open University's Center for Applied Social Work, said it is the same situation in other countries. With salaries being lower than in other sectors, not many young people choose to be social workers, she said.
Each year the HCM City Open University takes in 80-100 students, and the low salaries do not prevent talented people from studying and doing social work, she said.
She dismissed fears of corruption caused by the low salaries, saying the students are responsible people who know they should set an example for others as social workers.
Only an estimated 10 percent of social work graduates work in social sectors, but the ratio has increased in the last two or three years.
The health sector has realised that social work is necessary, Hien said. 115 Hospital has hired two social work students from the university and the HCM City Pediatric Hospital has taken in two others as interns.
The education sector, industrial parks, vocational training schools, courts, local and foreign charities, and organisations serving disabled and older people need well-trained social workers, Hien said.
But Huynh Minh Thao, communication manager at Information, Connecting and Sharing (ICS), an independent LGBT rights organisation, said none of his 10 colleagues are social work graduates. Instead, they graduated in law, communication, healthcare, and even Oriental studies, he said.
Other NGOs too recruit staff from other streams while only some volunteers are students of social work, he said.
"Social work gives us much benefit, not only money. Universities should teach students to do social work out of just enthusiasm. If they think much about money, it is hard for them to take up a job after graduation."
In his job it is hard to get wealthy, but he earns enough to manage his life and buy a house after working for many years, he said, adding that the biggest reward for a social worker is spiritual.