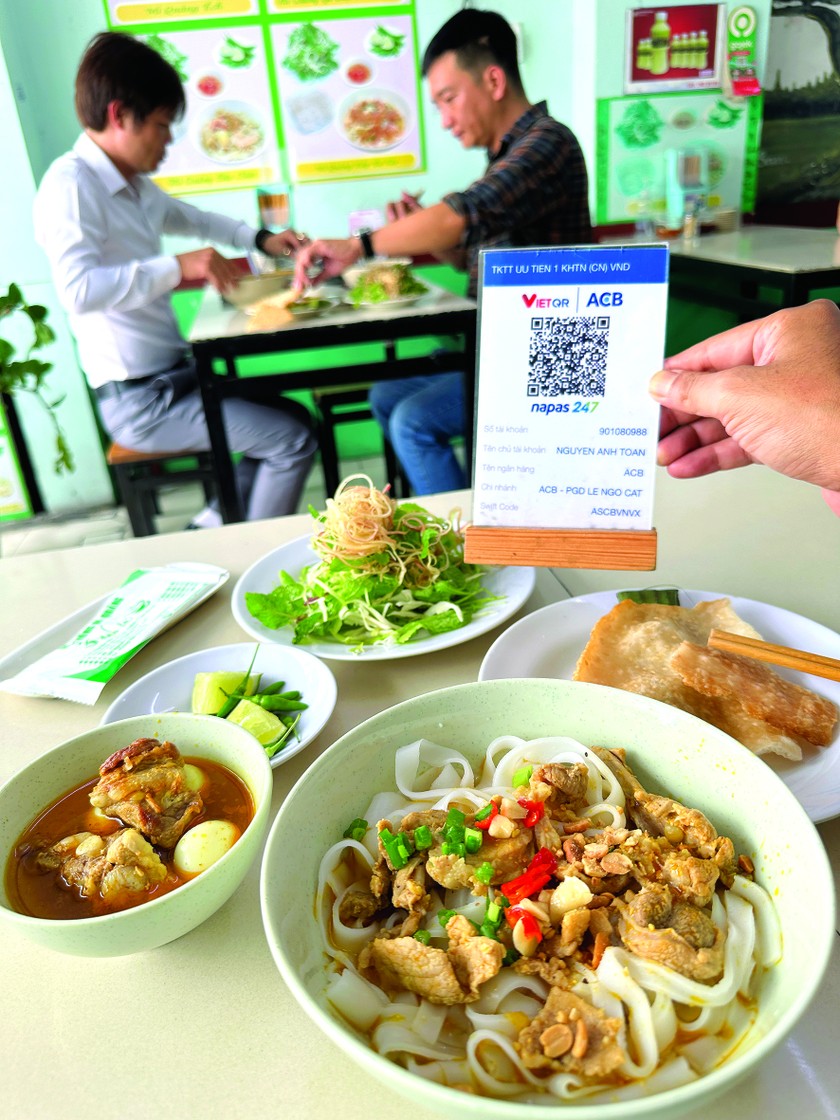 Diners of 'mi quang' dish just need to scan a QR code for payment

Entering a fish noodle shop on Bui Thi Xuan Street in District 1 of Ho Chi Minh City, it is easy to see many diners are scanning the shop's VNPay QR code for payment instead of using cash.
This action saves the time of shop assistants as they no longer have to come to each table to take money and give back the change. At the end of the day, it is easy for them to sum the daily revenues by checking the records on the app.
In a casual coffee shop on Phan Dang Luu Street in Binh Thanh District, a student is using Momo – an e-wallet app – to pay for the beverage bill of the whole friend group in less than 10 seconds. He will then look at the bill and announce the cost of each drink before receiving the money from his friends, also via Momo.
Several small casual food shops in HCMC now display their own QR codes from various bank accounts and e-wallets so that customers and shippers can quickly pay bills. Smart phones have become a practical and convenient tool for cashless payment, and most food sellers thoroughly know the steps to scan QR codes for this procedure on different apps.
In Vietnam, citizens can choose among diverse e-wallet apps like Payoo, MoMo, VNPay, VietQR, ZaloPay, and the latest Google Wallet as their regular cashless payment method. Contributing to the popularity of QR-code payment are fintech companies, which are continuously researching new ways to offer their users both convenience and customization functions in each QR code.
Co-founder of MoMo Nguyen Ba Diep shared that the function of payment/money transfer via QR codes has greatly simplified the process for both businesses and individuals. This is hoped to make cashless payment further widespread in the community.
With this new payment method, retailers will find book keeping an easier and more organized task while there is no need to worry about having sufficient change to give back to their buyers. That is why MoMo, Payoo, and VNPay have nearly covered all shops located in HCMC.
General Director Ngo Trung Linh of Viet Union (managing Payoo e-wallet) said that QR-code payment has become so popular because the investment for this method is not so high, and it can be launched after a short preparation time. Meanwhile, payment via bank cards requires specialized equipment and accreditation from financial organizations, which is rather complicated and time-consuming.
The State Bank of Vietnam reported that the annual growth rate of payment via mobile devices is around 90 percent. In 2022, this payment method saw a development in both transaction quantity and value.
Statistics of Statista from Germany reveal that Vietnam is among the top 3 nations with the highest quantity of payment via mobile devices. It is estimated that this figure will continue to increase yearly by 30.2 percent in the 2020-2027 period.