The Government should provide more support for women with disabilities so that they can overcome gender barriers in accessing social services, experts said at a workshop yesterday.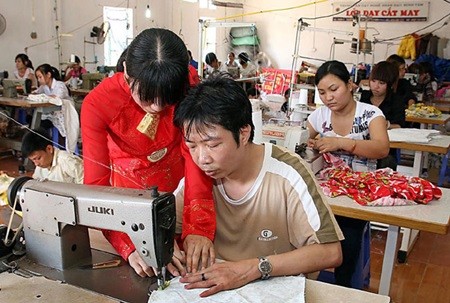 A vocational class for disabled people in Ha Noi's Thach That District. Experts said that more support should be provided for women with disabilities to overcome gender barriers. — VNA/VNS Photo Quy Trung
The workshop was organised by the Ministry of Labour, Invalids and Social Affairs (MOLISA) yesterday.
Women with disabilities face more disadvantages than men because of general perceptions about gender roles, a five-month (July to November) study found.
The study found that apart from affecting the women's self-esteem, such perceptions also impacted in different ways the development of policies as well as the delivery of support for people with disabilities.
This was particularly apparent in schools and vocational training centres, it said.
Girls with disabilities are discriminated against before they go to school and when they study, and they have difficulties getting close to other children.
At vocational training centres, teachers are not equipped to provide proper guidance to people with disabilities, especially women, about their careers, the study found.
Workshop participants came up with several recommendations for the Labour Ministry to improve the situation for people with disabilities in general and women in particular.
Pham Ngoc Tien, head of the ministry's Gender Equality Department, stressed the importance of Gender mainstreaming (assessing the gendered impact of actions at all levels), saying it was needed to ensure that women and men benefit equally from socio-economic development.
He said this topic was not very visible when people discussed support for people with disabilities in Viet Nam.
Others said the Government should improve the quality of vocational training and focus on creating more job opportunities for men and women with disabilities by strengthening co-operative links between training centres and local enterprises.
Viet Nam has a high rate of people with disabilities compared to other countries in the region. The Labour Ministry estimates the number at about 6 million, or 7.8 per cent of the population. It is also estimated that 60 per cent of this population segment can work and one-third of the families cannot afford healthcare for children with diabilities.