Prime Minister Nguyen Tan Dung has urged for tighter control of price and market as well as combating contraband and low-quality goods as the New Year is approaching.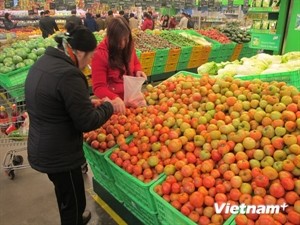 Illustrative image (Source: VNA)
Chairing the monthly Cabinet meeting on December 1 in Hanoi, the PM requested ministries, sectors and localities to continue speeding up economic restructuring in line with changing growth model, while boosting the re-arrangement and equitisation of State-owned enterprises as planned.
He asked for more efforts to stabilise the macro economy, remove business obstacles, and hasten the process and disbursement of projects, especially those involved in infrastructure.
In face of a constant decrease of the world's crude oil price, the Government leader urged the Finance Ministry to study and calculate State budget incomings in order to avoid a deficit.
Meanwhile, the State Bank of Vietnam was requested to implement concerted measures to deal with bad debts, and re-organise credit institutions, making it easier for businesses to access loans.
The PM asked ministries, sectors and localities to take responsibility for effectively implementing administrative reform, particularly administrative procedures, and improving business climate.
They were also urged to strengthen inspections over law enforcement and corruption and wastefulness prevention.
The Government leader stressed the need to focus on sustainable poverty reduction, new-style rural areas programme and job generation.
He also asked for concerted measures to combat social crimes, and ensure social order and traffic safety.
During January-November, the macro economy continued to be stabilised, while growth recovery was seen in all fields. GDP growth was higher than that of the two previous years and is expected to exceed the set target of 5.8 percent.
In the period, inflation was kept under control, consumer price index (CPI) increased by 4.3 percent, while index of industrial production rose by 7.5 percent, and FDI disbursement increased by 6.2 percent.