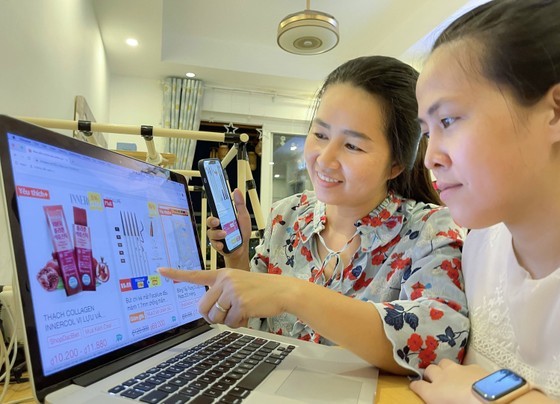 Customers are learning about online purchasing. (Photo: SGGP)

After two years launching a showroom to display and sell imported produce and processed food, Tien Thao Trading and Service Co. Ltd (sited in Go Vap District of Ho Chi Minh City) decided to reduce its business site mainly for the exhibition purpose. Its CEO Pham Van Bang shared that at present, 80 percent of the company's customers order merchandise online via its official website or e-commerce platforms and its formal pages on social networks like Facebook and Zalo. Therefore, downsizing the trading location and expanding online trading are necessary to save cost. Thanks to that decision, the company raised its income by 30 percent compared to this time last year.
Other businesses that have made similar decisions are Viet Thang Jeans Co. Ltd. in District 1 of HCMC and Binh Khanh Trading, Services, Import-Export Co. Ltd in Dong Nai Province. The former has enjoyed a revenue rise of 300 percent compared to 2021. The latter reported a reduction of customers directing visiting its offices but a significant growth at its online shops on e-commerce platforms, with a double income to more than VND1 billion (US$42,400) a year.
Doing business online has become a trend among retailers in traditional markets as well. Tran Kim Hien, a clothes seller in Tan Binh Market in HCMC, shared that after the outbreaks of the Covid-19 pandemic, the quantity of customers to traditional markets reduces remarkably. She and other retailers here have tried other trading ways online.
They take photos or make clips of their merchandise and post on popular social networks in Vietnam to advertise and sell goods there with the payment deposited to their bank accounts. Surprisingly, the revenues are much higher than doing business traditionally, and Hien has decided to sell one of her two booths to have more capital for online trading.
Head Le Thi Dung of the Growth Division under Sapo Technology JSC. (sited in Hanoi) commented that Vietnam is witnessing a growing trend of businesses and retailers moving online and taking better advantages of multi-channel trading. Director Vu Thi Minh Tu of the External Affairs of Lazada Vietnam agreed with this, saying that e-commerce has experienced great changes lately.
According to the Department of E-commerce and Digital Economy (under the Ministry of Industry and Trade), up to now, Vietnam is the owner of the third largest e-commerce market in ASEAN, and one of the four to welcome the participation of foreign suppliers in its e-commerce portal. At present, the six overseas suppliers that own 90 percent of the revenues from cross-border e-commerce in Vietnam are Meta (Facebook), Google, Microsoft, TikTok, Netflix, and Apple.
Recently, the Department of E-commerce and Digital Economy has cooperated with the Industry and Trade Departments of many provinces and cities as well as e-commerce platforms to organize various training sessions and trading connection events for businesses, especially as to local specialty consumption. A series of programs for enterprises wishing to export their products via international e-commerce platforms such as Alibaba and Amazon have also been held.
One key factor to take notice when entering such platforms is the maintenance of product quality, the preparation of valid business permits and food safety certificates.
Deputy Minister of Industry and Trade Nguyen Sinh Nhat Tan said that in order for e-commerce to sustainably develop and positively contribute to the national economic growth, at the beginning of this year, his Ministry introduced its action plan, in which a comprehensive plan to develop the national e-commerce in the 2021-2025 period was announced. This plan can ensure a healthy and competitive e-commerce market while encouraging the wide application of e-commerce among businesses and the community. Along with that is strict management of trading activities on social networks.
Vietnam E-commerce Association has announced Google's prediction that the scale of Vietnam's e-commerce in 2025 can reach $57 billion. Meanwhile, a survey on 15,000 retailers on Sapo Trading and Management Platform reveals that the switch to multi-channel trading has risen significantly this year, with nearly 58 percent of surveyed people using at least two different trading channels of online and offline.
These multi-channel traders are enjoying a revenue growth of 68 percent, while the figures for owners of only online shops and only offline shops are merely 17 percent and 15 percent respectively. Among online trading channels, e-commerce platforms are the most favorite among businesspeople (accounting for nearly a half), followed by Facebook (occupying 39 percent) and official websites (at 10 percent).