Prices of petrol, food, gold, fertilizers and construction materials have all gone up recently in southern Viet Nam.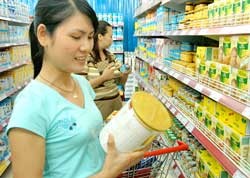 Dairy goods' prices have been fluctuating lately
Dang Vinh Sang, CEO of Ho Chi Minh City-based Saigon Petro said his firm imported petrol from Singapore at $90 a barrel on Thursday. Due to the government cap on fuel prices plus import tax, Vietnamese enterprises are losing up to VND900 for one liter sold, he added.
As the price hike has been occurring only this week, "we are able to bear it" but if it continues into next month, Mr. Sang said companies would have no alternative but to seek government permission to raise prices.
Meanwhile, the world oil has risen over US$90 per barrel and is likely to reach US$100.
Gold has been steadily rising in the past month. Gold at SJC (Saigon Jewelry Company) was sold Saturday for VND14.8 million per tael, the second highest rate this year. In May, the price reached VND15 million.
However, people have been buying the precious metal in droves.
A SJC representative said the firm even sold 7,000 taels a day, up 30 percent against some time ago.
The gold and petrol surge has made prices of other related products including steel, iron, aluminum, and cables leap up.
On the international scale, gold is at US$770 per ounce and the rate is likely to touch $800. This is attributed to rising demands for reserve purposes.
Urea fertilizers have gone up by $94-$112 per ton while DAP (diammonium phosphate) fertilizers $178-$200.
According to the Vietnamese Association of Fertilizers, as the spring-winter crop is approaching, fertilizers will be in great demand while domestic production only meets 65 percent.
It predicts fertilizer prices to continue their increase.
Pork, chicken, vegetables and fish have too gone up in price.
Liveweight pork is sold at VND18,000 per kg at provinces in the south and VND25,000 in Ho Chi Minh City.
But pork supply is dwindling.
According to Mr. Huynh Van Minh, director of Saigon Trading Group (Satra), in previous years, there was enough pork for pork pies and sausages for the Lunar New Year but this year, prices are rising and shortage of pork supplies will move toward its peak in the Lunar New Year.
However, other businessmen said supplies are still enough for the festival but prices will escalate.
Prepared chickens are up VND3,000-VND3,500 per kg this week.
Ribs are up VND8,000 to VND56,000-58,000 a kg from last year, anabas VND60,000-65,000 while mackerel VND70,000-75,000.
Vegetables, seasoning and fruits have all climbed by 15-20 percent year-on-year.
At Van Thanh market in Binh Thanh district, Ms. N.B.Mai told Sai Gon Giai Phong that she spent VND100,000 last year for daily food but now she has to add VND20,000.
Mr. D.V.D in Binh Thanh said a certain company has agreed to build a house for him two months ago but now the builder has backed out, wanting to be paid VND300 million more since it said steel prices have floated up by VND2-2.5 million a ton.