Major General Le Quy Ngo, Vice Minister of Public Security has piloted the granting of new identity (ID) cards that includes the name of cardholders' parents.
Yesterday ( Sep 21), three districts in Hanoi, Hoang Mai, Tay Ho and Tu Liem, began to grant new ID cards to the local people.
Thus, Hanoi became the first place of piloting the new cards.
After Hanoi, the new card will be issued in other provinces and cities, according to Circular 27/2012 of the Ministry on May 16, 2012.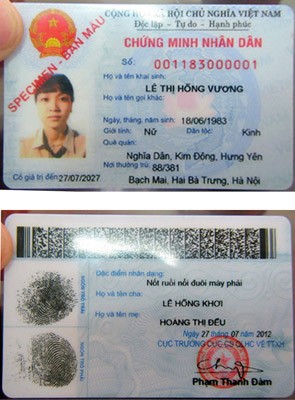 The new ID card ( Photo SGGP )
The new ID card has a rectangular shape, 85.6 mm long and 53.98 mm wide, is made of highly durable materials, and have usage duration of 15 years. On the backside of the card, the names of the cardholder's parents are shown.
Each new ID card number has 12 digits, instead of only 9 in current cards, and a 2D bar code that stores personal identification details, including fingerprints, which will be taken by an equipment using laser, not black ink as currently.
When an ID card with a bar code is exposed to a card-reading machine, all information stored will be displayed on a screen.
Being manufactured using advanced technology, the new ID cards cannot be counterfeited.
Regarding the inclusion of parents' names in the new card, Tran The Quan, Vice Director of the Legal Affairs Department of the Ministry of Public Security said the application of new ID with the names of the cardholder's parents will be flexible. In the case of sensitive problems as unknown parents, the parents have lost or cardholders do not remember the names of the parents… it is not necessarily to put the names of the cardholder's parents on the new ID cards.