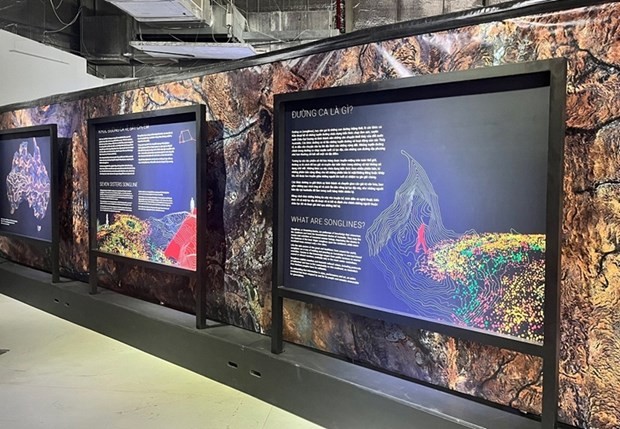 The exhibition "Walking through a Songline" takes place in Ho Chi Minh City until April 16. (Photo: Courtesy of Australian Embassy in Vietnam)
The remarkable work invites visitors to enter a space of immersive light projections, following in the footsteps of the Seven Sisters as they traverse the Western and Central deserts of Australia.
Songlines (or Dreaming) are central to the existence of Australia's First Nations' (Aboriginal and Torres Strait Islander) peoples, mapping the routes of Ancestral beings as they travelled across Australia, creating the land and its people. They are a way of holding and passing on knowledge to new generations.
Australian Consul-General Sarah Hooper said that the exhibition is an opportunity to learn about and celebrate the cultures of Australia's First Nations people.
An explanatory video featuring Margo Neale, Senior Indigenous Curator and Head of Indigenous Knowledges at the National Museum, can be viewed on the Australian Embassy Facebook page.
The exhibition is free to enter and is opened to the public at The Factory Contemporary Arts Centre, 15 Nguyen U Di in Thu Duc City every day until April 16. It will then move to the Vietnamese Women's Museum in Hanoi from April 28 to May 21.