Many Vietnamese brands of Fast Moving Consumer Goods have been targeted by foreign and domestic investment funds and giants for their Mergers and Acquisitions (M&A) deals.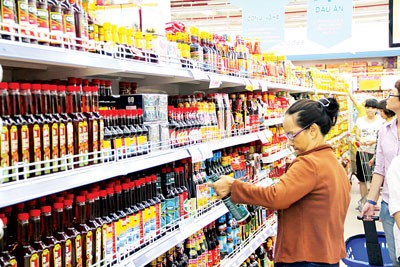 Consumer goods field has been targeted by large domestic and foreign businesses via M&A deals (Photo: SGGP)
After buying Metro Cash & Carry Vietnam at US$879 million in August, Berli Jucker Company owner Charoen Sirivadhanabhakdi has expressed desire to purchase a part of Saigon Beer Alcohol Beverage Corporation (Sabeco).
Foreign press agencies reported that the Thai Beverage Company of Mr. Charoen wants to invest US$2 billion in Sabeco shares.
Sabeco belonging to the Ministry of Industry and Trade will establish a restructuring board and sell 53 percent of its shares to strategic investors.
Euromonitor International's data shows that Vietnamese Government holds 89 percent of Sabeco stocks, and the company controls 46 percent of the country's beer market last year.
According to investors, it is not strange for ThaiBev to buy Sabeco shares because Vietnam is one of the largest beer consumption markets in the world and Sabeco holds a large local market share.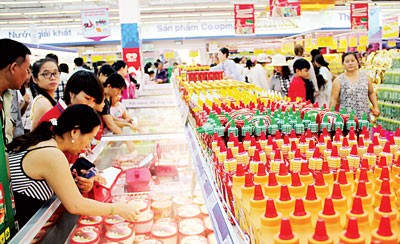 (Photo: SGGP)
Earlier, several beer brewers in the world such as Sab Miller, Kirin Brewery, Asahi Breweries, Asia Pacific Breweries haved expressed desire to become foreign strategic partners to buy Sabeco shares.
In the stock market, Masan Consumer Company is expected to spend US$357 billion in an offer to purchase 49 percent shares of Cholimex Food Company, who holds a large market share in spices and sauces.
The offer to purchase price is announced publicly at VND90,000 a share. The total revenue from the deal will be 21 times higher than Cholimex's profit last year.
The purchase of Cholimex stocks will help Masan broaden its market share, take advantage of Cholimex distribution system and bring the competitor Cholimex to the same side with it.
Previously Masan has bought 53 percent shares of VinaCafe Bien Hoa, 40 percent of the Vietnamese-French Cattle Feed Proconco and 63.5 percent of Vinh Hao Mineral Water.
Kinh Do Bakery has sold 80 percent of its shares to the US snacks company Mondelez International for US$370 million. The deal is expected to finish in the next second quarter. Kinh Do might withdraw from the bakery sector because Mondelez will be able to buy the rest 20 percent shares after one year of share holding.
The company's board of directors has decided to increase it share at National Company for Vegetable Oils, Aromas and Cosmetics of Vietnam (VOCARIMEX) from 24 percent to 51 percent.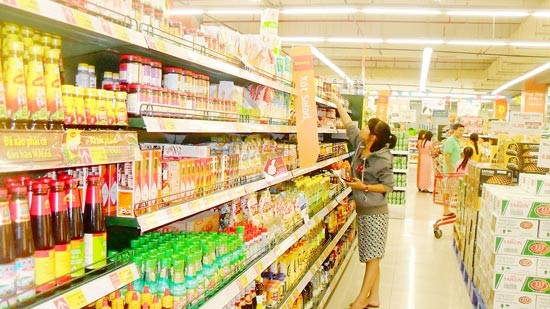 (Photo: SGGP)
Vocarimex plays an important role in the vegetable oil market. The company owns 51 percent stock of Tuong An Company, 24 percent of Cai Lan Company with Neptune and Simply brands, 49 percent of Golden Hope Nha Be and 27 percent of Tan Binh Oil Vegetable.
Besides, the bakery will step up investment in other potential sectors including instant noodles, coffee, beverage, ice cream and milk.
Deputy Director General of Kinh Do Tran Quoc Viet said that this is a golden time for the company to speed up investment via M & A before Vietnam signs bilateral and multilateral trade agreements with other countries, when local businesses will face severer competition from foreign rivals.
On the other hand, the Government's determination on state own enterprise equitization has created opportunities for the company and other local and foreign giants to attend in fields that the state has monopoly on, he added.
Consumer products have been least affected by economic crisis. According to reports by investment funds, companies from this field have showed more satisfactory business results than those from other fields.