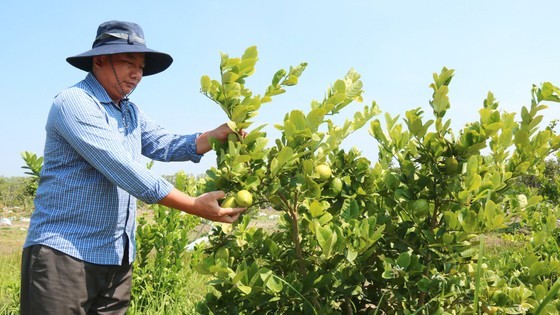 Nguyen Van Hien in his lemon orchard
Nguyen Van Hien hailing from the Central Province of Quang Nam was not afraid to take on the challenge of turning hundreds of hectares of acid and saline soil in Dong Thap Muoi becomes a forest of lemons. Hundreds of thousands of tons of lemons as well as lemon products have been present not only in the domestic market but also in many countries around the world.
It sounds like a joke that he sold land to grow new lemons, but it is a true story that Mr. Nguyen Van Hien, Chairman of the Board of Directors of Lemon Viet Company (Chavi) in the Mekong Delta Province of Long An's Ben Luc District. Mr. Hien went to Ho Chi Minh City to study and work in the construction industry for a while. However, coming from a farmer family, Mr. Hien has a painful dream of doing something for Vietnam's agriculture. After a period of research, he decided to choose a lemon tree.
Recalling the time when he was looking for land for farming, Mr. Hien said that more than 10 years ago, the Dong Thap Muoi area was only flooded with Melaleuca forests, and the soil was salty and alum; however, through study, he realized that lemon trees could be grown on this land, so he decided to buy a few hundred hectares of land to improve and grow lemons.
In the early days with so many difficulties, he sought assistance from scientists who could share experience and knowledge to make this saline soil more fertile for the lemon tree to grow with high yield. Up to now, more than 150ha of land has been invested and renovated into one of the largest seedless lemon farms in Vietnam and created a push to spread the thousands of hectares of raw materials in Ben Luc District, making the lemon tree one of the most important crops of Long An Province.
Thanks to the application of science and technology in organic farming and compliance with European quality standards and production processes such as GlobalGAP and HACCP, Vietnamese-branded lemons have been displayed in supermarkets in the most difficult markets such as Europe, Japan, and India.
Mr. Hien said, despite the support of local authorities, functional sectors, and friends at home and abroad to export lemons to many countries such as China, Japan, Thailand, Korea, Netherlands, USA, and Norway because these are fastidious markets that require standard lemons, the export standard rate is only about 30 percent.
Worse, the transportation process also causes a rather high rate of damage due to improper selection of lemons by workers. Besides, workers have to choose 100 tons of the fruit for a container of 40 tons of lemons. The remaining lemons cannot be consumed by the domestic market.
Also because of the loss from selling lemons, he decided to wander the markets of many countries and territories such as Japan, Taiwan, Korea, China, the Netherlands to learn the technology as well as the manufacturing process for lemon products. However, there is no machine on the market that is specifically made for lemons, so he studied all processes, then reworked them to suit the processing of lemon products. Up to now, he has a processing factory and a frozen warehouse that can store 400-500 tons of lemon juice, equivalent to 4,000-5,000 tons of lemons.
Mr. Hien said: "Selling fresh lemons is very difficult, so I was determined to learn about investment in machinery and equipment as well as the consumption market to process lemon products and have been successful with many products such as lemon powder, lime juice powder, lemon tea, lemon sauce, dried lemon slices, dried lemon peel, lemon essential oil."
Currently, these products are not only sold domestically but also exported to many countries around the world. In addition to lemons grown in his orchard, his company also buys lemons from relatives and cooperatives inside and outside Long An Province for processing. Farmers who can't sell them can sell to the company.
Up to now, Mr. Hien has linked many gardeners, and cooperatives to guide people on clean lemon growing techniques; the company will buy all lemons. Also from the purchase of all lemons from the people and the scale of lemon cultivation, production and export, Mr. Hien is loved by many farmers as "the lemon king".
Currently, he is determined to bring the fruit to the US believing that Vietnamese organic lemons will be available in the United States. He hoped that Vietnamese lemons and lemon products will reach out further to improve farmers' income.