Mexican Interior Secretary Francisco Blake Mora, a key figure in the country's bitter war on drug cartels, died in a helicopter crash near Mexico City on Friday, along with seven others.
"Unfortunately the interior secretary, his collaborators and the helicopter crew were found dead," government spokeswoman Alejandra Sota said in a televised address.
Blake, 45, was the second interior secretary to die in an air accident during the presidency of Felipe Calderon, after Juan Camilo Mourino died in a small plane crash in Mexico City three years ago.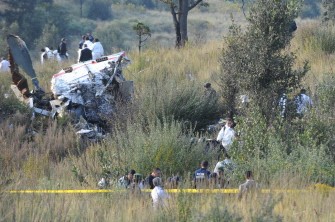 Forensic and technical personnel inspect the debris of the helicopter where the Mexican Interior Sectretary Francisco Blake Mora died on November 11, 2011 in Tlamanalco, Mexico state, Mexico
Blake and his colleagues had been traveling from Mexico City to Cuernavaca, in the neighboring state of Morelos, to a meeting of prosecutors.
A search began after the helicopter disappeared from its projected route. TV pictures later showed the wreckage in a mountainous area, with several other choppers on the ground nearby.
Calderon, who cancelled his trip to a weekend summit of Asia-Pacific leaders in Hawaii following Blake's death, said the crash was likely an accident due to poor weather conditions and promised a full investigation.
"The cloudy conditions at the time of the journey the secretary was taking ... certainly suggest the probability of an accident, but all probabilities will be investigated," he said in a televised address.
The president, whose leadership has been defined by a controversial military crackdown on the country's drug gangs involving tens of thousands of troops, lauded Blake as a loyal and close collaborator.
"He was above all a great Mexican who deeply loved the country he served until the last moment of his life," Calderon said.
The other victims were three interior ministry officials, including the deputy minister for rights and legal affairs, as well as the helicopter crew.
Blake, a lawyer from the border city of Tijuana, was a lawmaker from Calderon's National Action Party (PAN). He assumed his ministerial post on July 14, 2010.
Calderon chose Blake for his experience with government and security forces in his native state of Baja California, which is located on key drug trafficking routes.
Blake maintained a tough stance in Calderon's fight against organized crime.
"There's no confusion here -- in this battle there's no space for truces or hesitations, nor for experiments," Blake said in a recent speech after the killing of a mayor in the western state of Michoacan.
Friday's crash came days after the third anniversary of the crash that killed Mourino on November 4, 2008, along with the anti-drug prosecutor Jose Luis Santiago Vasconcelos.
Many speculated that sabotage was behind that accident, in which 14 died, but investigators blamed pilot error.
The last message on Blake's Twitter account referred to Mourino, on the anniversary of his death.
"Today we remember Juan Camilo Mourino three years after his passing. (He was) a human being who worked to build a better Mexico," it said.
As sympathy wishes poured in Friday, US President Barack Obama "reinforced his commitment to the close partnership between the United States and Mexico in this difficult time," in a telephone call with Calderon, the White House said.
The United States supports Calderon's crackdown on organized crime gangs, which has been accompanied by a wave of violence which has left some 45,000 dead since 2006.