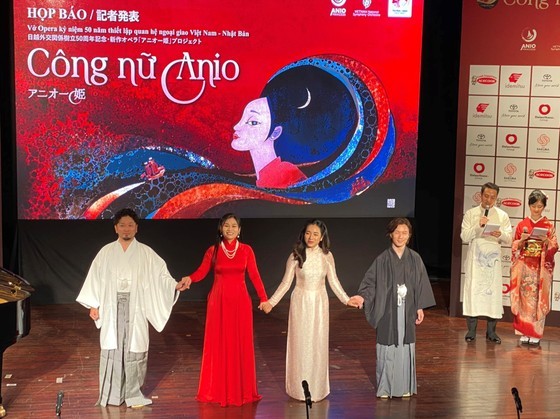 Vietnamese and Japanese artists attend the announcement ceremony of the opera project in Hanoi on May 18. (Photo: SGGP)
The statement was made at a press conference held by the Japanese Embassy in Vietnam and the Ministry of Culture, Sports, and Tourism in Hanoi on May 18.
Speaking at the event, Director of the International Cooperation Department under the Ministry of Culture, Sports and Tourism, Ms. Phuong Hoa said that Vietnam and Japan have coordinated to organize many activities to mark the 50th anniversary of the establishment of diplomatic relations between the two countries this year.
The opera is based on a true love story between Vietnamese Princess Ngoc Hoa and Japanese trader Araki Sotaro in the 17th century contributing to building the relationship between Vietnam and Japan.
It will be performed by local artists of the Vietnam National Symphony Orchestra (VNSO) and Japanese artists, including the four soloists, Dao To Loan, Bui Thi Trang, Kobori Yusuke, and Yamamoto Kohei who will play the lead roles of Princess Anio and Araki Sotaro (double cast), with the participation of musician Tran Manh Hung, scriptwriter Ha Quang Minh, music director and principal conductor at VNSO Honna Tetsuji.
The opera will premiere at the Hanoi Opera House in September and then be presented in provinces and cities across the country.