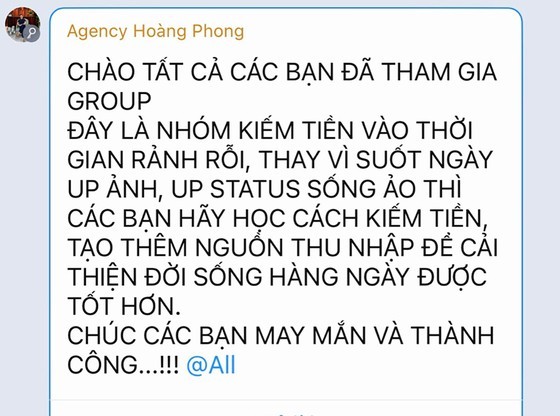 An invitation of investment with huge profits from chat groups in social networks

It is not hard these days to pinpoint trading advertisements in popular social networks in Vietnam like Zalo, Facebook, TikTok, Telegram. These ads link interested people, mostly the young, to chat groups where advice pieces are given along with promises of huge profits in a short time for anyone. Chat group leaders and consultants do not reveal their personal information, and are actually brokers that offer a lucrative profit two, five, or even ten times as much as the investment amounts.
Being a novice in the financial field and lured by pampering words, young investors cannot differentiate between professional projects and foxy traps when they are introduced to international-scaled trading floors, many of which follow the multi-level marketing model.
CEO Le Cam Tien of Focus International Co. shared that thanks to advanced technologies, it is easier for domestic investors to access the Forex market. However, the Vietnamese Government has yet licensed any individuals or organizations, companies to launch an intermediary trading floor in the country. Therefore, all ads saying a floor is 'authorized to operate in Vietnam' is a fake, and investors take all responsibilities for their own investments.
Financial experts explain the tricks of scammers. First, these criminals give consultation for beginner investors to make investment orders. Those first amounts usually bring back attractive profits, which encourages the investors to pour more money into the game. The latter orders, normally in larger volumes with a higher service fee, end up in a loss.
The scammers then advise their victims to move to a new trading floor in hope of winning the lost money. This process is in fact just like gambling, where all lost money enters the account of scammers, also the owners of those trading floors. When earning enough from the cunning tricks, these criminals announced a trading floor crash and disappear with the scammed money.
Some trading floors are even designed with the ability to access the account of investors without permission so that floor administrators can make an order, change the account balance, delay the execution of an order, expand the selling-buying price gap, and use up all money in an account.
Ms. Cam Tien warned that the tricks have become more cunning and diverse, aiming at young investors without much financial knowledge but wishing to earn the most money in the shortest time. One traditional way to identify a scamming trading floor is the guarantee of capital safety for investors of ill-intention finfluencer (on the forex market) via the Ponzi model (paying profits to earlier investors through the money from more recent ones).
She also mentioned the recently popular green-red investment method, which has taken away money of a large number of investors, and stressed that it is not wise to join in the game without any knowledge of consultation from experienced or professional people.
Another trick easily done these days is online purchasing via e-commerce platforms like Lazada, Shopee without paying directly on those platforms or via COD but to do so through a third party so that buyers can receive refunds. With a few successful transactions, users of these scamming platforms agree to carry out higher-value transactions via them, and this money is then appropriated. No goods are delivered after the payment, no refund appears, and notifications of a system error are sent before all contacts are cut off.