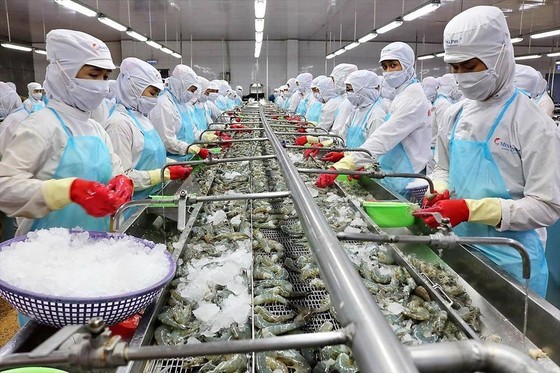 Processing shrimps for export. (Photo: SGGP)
Andrew Jeffries, Country Director of theAsian Development Bank (ADB) in Vietnam, said with growth-supportive policies through monetary easing and a substantial volume of public investment expected to be disbursed in 2023, Vietnam is expected to cope with current challenges such as the global economic recession and geopolitical tensions.
He forecast that Vietnam's economic growth rate will slightly drop to 6.5 percent in 2023 and increase to 6.8 percent in 2024. Public investment will be a key driving force, stimulating the recovery and economic growth in 2023 and 2024, as well as boosting the construction sector and other related economic activities. Along with the swift shift to monetary easing policies in March, the disbursement of public investment is expected to have multidimensional impacts, creating strong growth momentum for the economy.
According to him, the prolonged Covid-19 pandemic since 2021 has exposed structural issues and also posed significant challenges to the Vietnamese economy. The domestic capital market is under pressure.
Although the market instability has yet to affect the banking system due to banks' resilience, risks are increasingly present, Andrew said, adding that in the long term, financial sector reforms should be continued to reduce the economy's reliance on bank funding and improve transparency in the capital market.
Meanwhile, Country Director for WB Vietnam Carolyn Turk said unlike many other countries, Vietnam still has room to adopt measures to propel growth. The effective implementation of key public investment projects is a key driver of both short-term and long-term growth. Additionally, fiscal and monetary policies must be synchronous to support the economy and ensure effective macroeconomic stability.
The WB forecast that Vietnam's economic growth in 2023 may reach 6.3 percent, following a high of 8 percent in 2022. This decline is attributed to a slowdown in the service sector's growth, as well as rising prices and interest rates impacting both investors and households. However, the growth is expected to rebound to 6.5 percent in 2024 as Vietnam's major export markets recover.
She said both domestic and external challenges require the Vietnamese Government to adopt cautious policies based on evidence and data. These policies should include managing the linkage between growth and inflation, and closely monitoring the financial sector. The favourable conditions for a faster global growth recovery may occur sooner than expected, which would boost the export situation and likely contribute to an overall increase in economic growth.
In her opinion, innovation has the potential to achieve promising export turnover. Though accounting for only 9 percent of the total service export earning and contributing 6.4 percent of employment in the service sector, the service sector has the highest productivity in the economy.
She suggested that appropriate policies and actions are needed to support small-sized enterprises, remove barriers to trade in services, gradually reduce the use of low technology, overcome the lack of connectivity among other industries and sectors. These measures will help accelerate the growth of this sector.
The immediate task is to remove barriers to trade and foreign investment in the innovative service sector, as well as launch reforms to enhance competitiveness and improve access to finance for domestic enterprises, she said, adding that the Government, along with relevant departments and agencies, should encourage firms to gradually adopt technology and innovation in product development and processes. Efforts should be taken to improve the capacity and skills of the workforce and management officials.
Additionally, there should be a greater emphasis on improving the quality of services to further drive growth in sectors where Vietnam has strengths, such as manufacturing and processing.