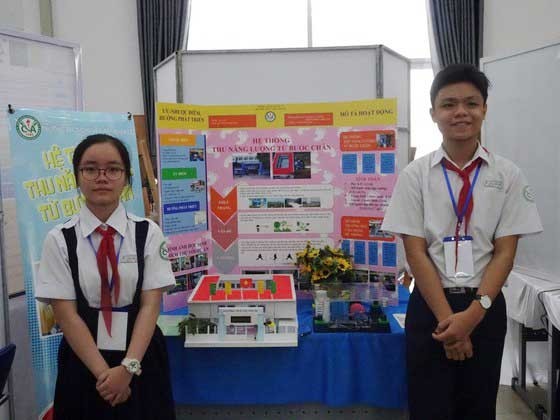 HCMC high school students in a contest on scientific-technological research
A survey on training demands among principals of primary, secondary schools in Ho Chi Minh City and its 16 neighboring provinces reveals that the highest priority lies in their understanding about educational technologies, followed by cyber security capacity (as schools now are facing a high risk of data loss due to cyberattacks as well as a major concern on safety in the management of tests, exams for students).
Other highly interesting management topics include the ability to seek digital transformation solutions, to select and effectively use different educational ecosystems, to analyze data and develop a digital transformation plan in order to better link among stakeholders of a school.
Deputy Head Nguyen The Quang of the Teaching and Learning Division under Ninh Thuan Province Education and Training Department commented that there is still ambiguous awareness about digital transformation among teachers and educational managers in different provinces. Many still misunderstand the differences between IT application and digital transformation in education. Adding to that is an unbalance between outdated IT infrastructure and the introduction of new software pieces, leading to unsustainable implementation.
More seriously, the majority of teachers as well as educational managers cannot satisfy the IT skill demands since they were trained with old knowledge. Then they do not have any competence framework to compare and update their skills accordingly.
Moving to the matter of digital transformation in examination, Assoc. Prof. Dr. Chu Cam Tho – Head of the Educational Research and Evaluation (under the Vietnam Institute of Educational Sciences – the Education and Training Ministry) stated that students, parents and teachers all complain about the heavy workload for each examination. This is because both trainers and trainees depend too much on guidelines to limit knowledge before each examination.
In reality, however, the new General Education Program 2018 allows multiple textbook sets nationwide and gives more rights to each school to develop its own curriculum suitable for its specific students. In other words, schools themselves much develop their own exam question bank in various forms to comprehensively evaluate the learning skills and academic knowledge of their students, which means teachers must update their digital skills to administrate the school's system and ensure information security and safety.
Director Nguyen Hoai Thuy Hang of the Hau Giang Province Department of Education and Training stated that facing a serious lack of IT human resources, if the educational sector does not introduce a more attractive benefit policy, it cannot employ sufficient staff to fulfill the digital transformation goals. She cited that even with the fringe benefit policy of VND50 million (US$2,100) per person for English language, Arts, IT teachers signing a contract to work in the province for 5 years, Hau Giang Province is still unable to hire enough staff.
Therefore, along with raising the awareness of teachers and educational managers on digital transformation, representatives of many education and training departments agree that it is necessary to invest more in consistent infrastructure and educational equipment as well as to adopt suitable policies and management mechanisms to better answer the needs of the new General Education Program 2018.