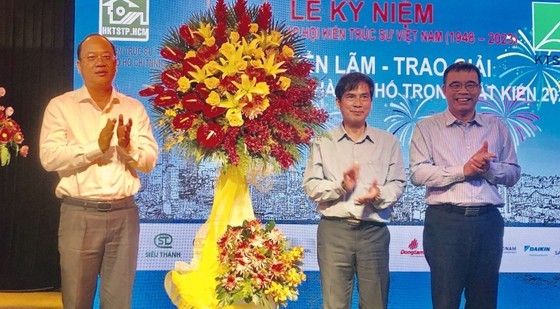 Vice Secretary of the Municipal Party Committee Nguyen Ho Hai (L) attends the award ceremony and an exhibition of prize-winning pictures of the "City in the Eye of Architecture 2022" photo contest held in HCMC on May 27. (Photo: SGGP)
The event aims to celebrate the 75th founding anniversary of the Vietnam Association of Architects.
Speaking at the event, Chairman of the HCMC Association of Architects Nguyen Truong Luu said that many members of the association gained achievements and architectural works contributing to the architecture of the country and HCMC over the past time, such as architects Khuong Van Muoi, Vo Thanh Lan, Nguyen Van Tat, Nguyen Hoang Manh, and others.
After four months of launching, the organization board received around 345 submissions from 67 photographers. The HCMC Association of Architects presented a gold prize to photographer Pham Duc Long and awarded two silver prizes, two bronze prizes, five encouragement prizes, and the "Architectural impression" prize.
On this occasion, the Vietnam Association of Architects offered certificates of merit to two collectives and 52 individuals, and souvenir medals "For the cause of architecture" to 57 persons who had outstanding achievements in building and promoting the career and the association.