An 80-couple mass wedding was held in Ho Chi Minh City on the auspicious date of 11-11-2011 yesterday, being the biggest event of its kind in the history of HCMC.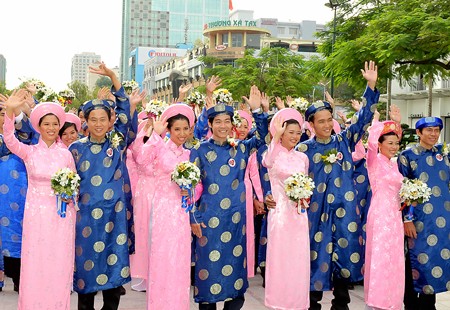 80 couples participate in a mass wedding in Ho Chi Minh City on 11/11/11. (Photo: Sggp)
Cars adorned with flowers drove the couples along the main city streets such as Pham Ngoc Thach, Dong Khoi, Ton Duc Thang, Nguyen Hue and stopped in front of Uncle Ho's Statue in the park outside the headquarters of the People's Committee of Ho Chi Minh City for offering of flowers to the nation's patron.
Many local residents and visitors congratulated the couples and were seen taking photographs of the beautifully dressed couples on their wedding day.
Most of the brides and grooms are workers having low income and unable to organize luxurious wedding parties.
The Ho Chi Minh City Youth Workers Support Center offered a group wedding for disadvantaged couples who cannot afford large wedding ceremonies. The couples also received assistance with wedding outfits, cakes, rings and other celebrations.
The mass wedding attracted many young couples for its special significance to the lucky date as well as being economical.
Nguyen Phi Phuc, father of the groom Nguyen Thanh Phuoc came to the city from Dong Nai Province to congratulate his son and new daughter-in-law. He was so happy to attend such an auspicious and formal mass wedding ceremony.
Bride Nguyen Ngoc Tung Anh from the Ho Chi Minh City Green Tree Company said that she was very happy to be married at a mass wedding along with 70 other couples on this special date of 11-11-11.
Bride Nguyen Da Thao of Cu Chi District had worried that on her low-income she would not be able to have a lavish wedding ceremony.
The Ho Chi Minh City Youth Workers Support Center plans to hold another mass wedding for 120 couples in 2012.