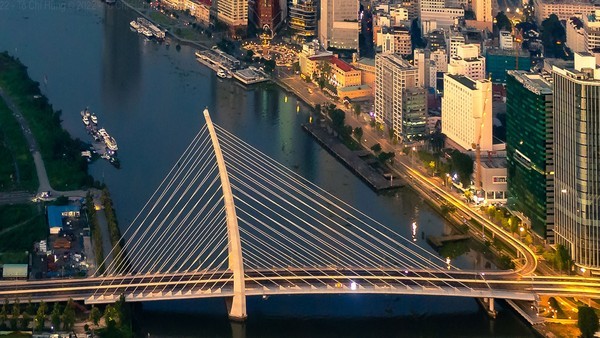 Ba Son Bridge connecting District 1 and Thu Duc City is the new symbol of HCMC. (Photo: SGGP)
According to Mr. Phan Van Mai, in 2022, HCMC achieved relatively encouraging results. The economic growth reached 9.03 percent, while the target set at the beginning of the year was 6-6.5 percent. Budget revenue exceeded the estimate, achieving above 118 percent, topping more than VND471.5 trillion. Socio-economic activities recovered strongly, reaching and surpassing the level before the Covid-19 pandemic. It is the foundation to create momentum for this year to continue to grow. However, the current difficulties must be recognized clearly.
Under the impact of international conflicts and the global supply chain disruption, the socio-economic situation of Vietnam in general and HCMC, in particular, has been greatly affected, and these impacts will prolong. Generally, opportunities and challenges are always intertwined, but in the current context, difficulties and challenges are outnumbered. HCMC has built three development scenarios for 2023, based on the favorable level of the situation. It can be said that difficulties make the city more determined and act more decisively to overcome and move forward.
In that context, to achieve the goals set for 2023, HCMC needs considerable resources, while the budget is limited. In the 2021-2025 period, the Central Government has assigned HCMC to mobilize nearly VND142 trillion to spend on development investment, but this figure only meets 21 percent of investment needs. Therefore, maximizing budget capital and mobilizing social resources for development investment is extremely essential. In which, public investment capital must play a leading role.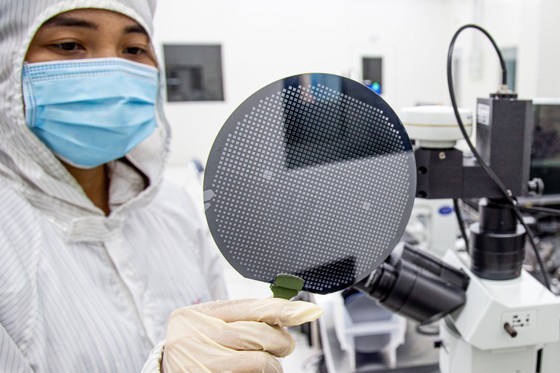 Producing inductive circuits for smart devices in Saigon Hi-Tech Park. (Photo: SGGP)
To do this, in terms of budget capital, HCMC has developed a project to effectively manage and use public properties, and soon auction public housing and real estate assets, and make planning and exploit underground space. Regarding social investment capital, the city has improved the investment environment, carefully prepared strategic projects to call for investment in the form of public-private partnerships, along with the implementation of the set of criteria for foreign direct investment (FDI) attraction and the project on mobilizing social investment resources. Especially, last year, HCMC received remittances of up to US$6.8 billion, higher than FDI capital. The city has made a plan to direct this remittance flow to sectors where it can bring into play its highest effectiveness, such as education, health care, and small and medium-sized enterprises.
"In 2022, HCMC set a goal to disburse 95 percent or more from the beginning of the year. However, until the deadline for the public investment disbursement of 2022 (January 31, 2023), even if the city tries its best, it can only reach 86 percent. It is not an optimistic figure for a dynamic and creative city like HCMC. The city has determined to improve this rate in the coming year," said Mr. Phan Van Mai.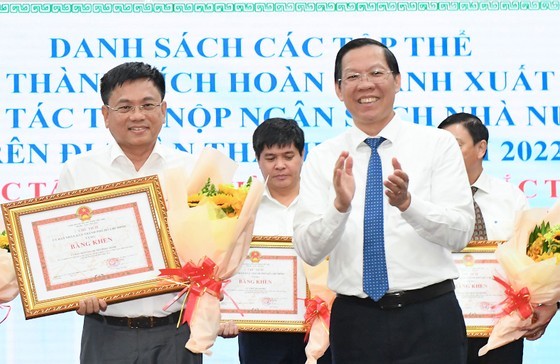 Chairman of the People's Committee of HCMC Phan Van Mai gives certificates of merit to units with outstanding achievements in budget collection. (Photo: SGGP)
City leaders and citizens have noticed that over the past time, public officials seemed to have stagnation and no longer keep their determination and enthusiasm at work as there were violations in which public officials were punished and handled. Of these, there were cases where the line between wrong and right is sometimes in the perspective of the judicial authorities. This state of mind does not seem to occur in HCMC only. That is one of the reasons for Conclusion No.14 of the Politburo on the policy of encouraging and protecting dynamic and creative public officials for the common good. Up to now, 40 out of 70 units of HCMC have registered their initiatives so that they can carry them out from the beginning of 2023.
In addition, unlike many other localities, HCMC also has to face the problem of work overload. The People's Committee of HCMC has directed the Department of Home Affairs to develop a project to motivate and retain public officials, civil servants, public employees, and laborers in the urban administration apparatus. In this project, the focuses are on recruitment innovation, talent utilization; training regime; promotion opportunities, arrangement for promotion, including exams for leadership and management titles; regime on additional salary payment; housing policy review for public officials and civil servants of the city.
These factors will be able to motivate and encourage HCMC officials, civil servants, and public employees to get rid of fear so that they can devote themselves to their work.
Administrative reform and investment environment improvement will create a strong driving force for the whole society. However, the coordination between departments, agencies, and localities remained limited over the past time, causing work to be delayed and administrative discipline not to be guaranteed. Leaders of the People's Committee of HCMC are responsible for these limitations in directing and operating.
HCMC determined the year's theme for 2023 as "Improving the efficiency of public services, accelerating administrative reform and improving the investment environment; promoting economic development; ensuring social security". Besides solutions to evoke and promote a sense of responsibility, in 2023, HCMC will also evaluate officials close to reality. Human resources are important, and public officials should do their best to unlock other social resources.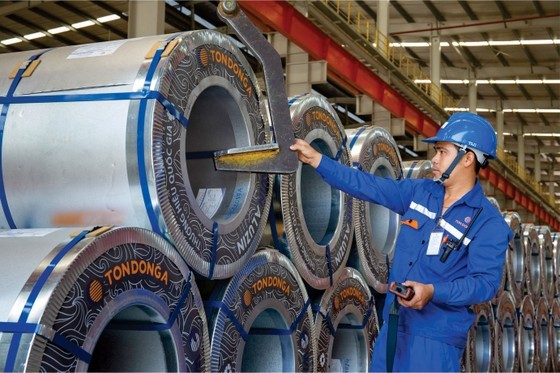 Iron sheet production for export. (Photo: SGGP)
HCMC has developed a draft resolution to replace Resolution 54 in the spirit of focusing on solving bottlenecks in mechanisms and policies to help the city fulfill its tasks as the economic locomotive, making more significant contributions to the country's economic development. The draft contents emphasize the strengthening of hierarchy and decentralization for HCMC so that it can be flexible in directing and operating in accordance with the requirements and assigned workload. This new resolution develops mechanisms to release investment resources, especially foreign and private investment. The proposals of HCMC also aim to create more revenue for the city budget to spend on development investment. The issues related to the apparatus, public officials, and civil servants are also part of the content of the draft resolution.
Recently, the NA has allowed HCMC to extend the implementation of Resolution No.54 to December 31, 2023. During that time, the city will actively prepare to submit a new draft resolution as soon as possible. Currently, HCMC has been actively working with central ministries and agencies to complete the contents of the draft resolution. The new draft resolution is expected to be submitted to the NA at its 5th session in May 2023.
Mr. Phan Van Mai said that the workload in 2023 would be huge, plus the difficult situation and fluctuations of the world, and the city would have a lot of work to do. He believes that with the determination and efforts of each public official, civil servant, and public employee, as well as the companionship of citizens and businesses, HCMC will accomplish the set goals. Together, HCMC had endured the pandemic and then recovered robustly. Now, facing big challenges, the city must strive even harder, unite, and use all resources to move forward.