Suspected insurgents killed four people in a spate of overnight attacks in Thailand's Muslim-dominated deep south, police said Thursday.
Armed men opened fire on the house of a village chief in Yala province early Thursday, sparking a gunfight with defence volunteers. The headman's son and young granddaughter were killed while 10 others were wounded.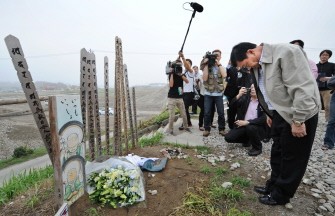 Thailand's fugitive ex-prime minister Thaksin Shinawatra (R) bows to offer condolences to the victims of the devastating March 11 earthquake and tsunami at a memorial placed along the tsunami-hit coast in Natori, Miyagi prefecture on August 25, 2011
In another incident, more than a dozen armed men in two pick-up trucks opened fire on a military outpost in Songkhla Province late Wednesday, leaving one paramilitary dead and two hurt.
Militant attacks are rare in Songkhla, which is located just north of the three worst affected provinces of Yala, Pattani and Narathiwat.
In Pattani, a 60-year-old Muslim village chief was shot dead late Wednesday on his way home from a mosque.
More than 4,700 people, both Muslims and Buddhists, have died in almost daily attacks since shadowy insurgents launched an uprising in Thailand's southernmost region in early 2004.
Critics accuse the government of failing to address the grievances of Thailand's Malay Muslims, including alleged abuses by the military and a perceived lack of respect for their ethnic identity, language and religion.