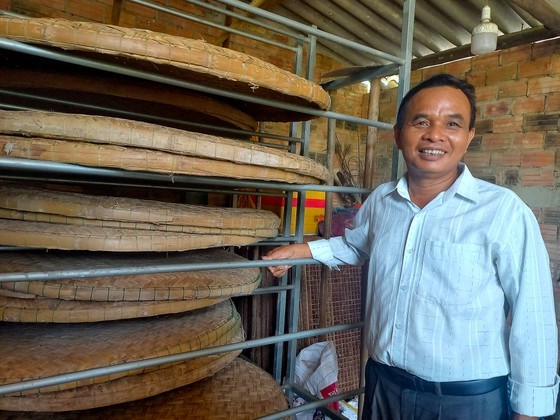 Le Van Truong upholds the traditional practice of cultivating mulberries and raising silkworms in his family.
Along the banks of the Ve River, Duc Hiep Commune in Mo Duc District, Quang Ngai Province has gained renown for its long-standing tradition of cultivating mulberries and raising silkworms. Regrettably, at present, only the elderly remain to carry on this profession. that has been handed down from one generation to the next.
The Le Van Truong family residing in the commune's Phu An Hamle has been involved in mulberry silkworm rearing and farming for generations. This profession was passed down from his grandparents to his parents, and despite changes in his life, he remains dedicated to it.
Truong recalls that many years ago, there was a cooperative in the area specifically focused on collective mulberry silkworm farming. During that time, Quang Ngai Province had a silkworm company, which led to great enthusiasm and hard work among the people in Duc Hiep Commune.
The hamlets of Phu An, Nghia Lap, Chu Tuong, and An Long were all thriving with mulberry silkworm rearing and farming activities. However, when the company dissolved, the cooperative was unable to sustain itself and eventually ceased operations. Consequently, the number of farmers engaged in mulberry silkworm cultivation and rearing gradually declined over time.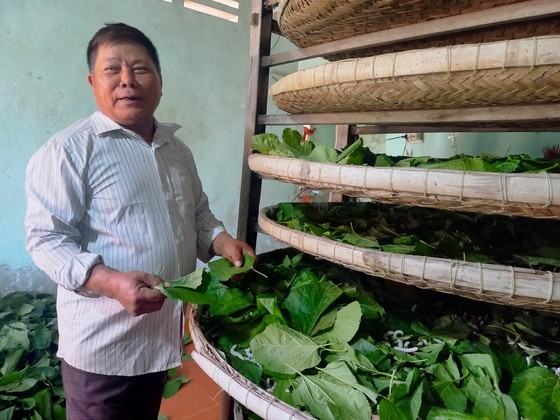 Ngo Hoang Hai feeds his silkworms with mulberry leaves.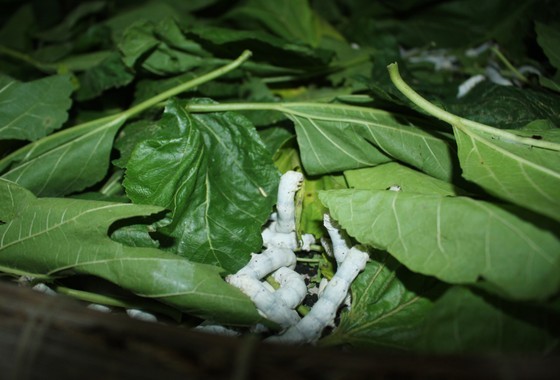 Silkworms only eat fresh, clean, and dry mulberry leaves.
The practice of cultivating mulberries and raising silkworms is incredibly demanding, earning it the nickname "standing-meal profession" because when someone is in the middle of their meal, and it is about to rain, they must rush to harvest mulberry leaves. "If the mulberry leaves become drenched in the rain, the silkworms will die when consuming them.
That is why, during the rainy season, if the mulberry leaves get wet, they must be spread out in the courtyard and dried by fanning. Silkworms have a unique characteristic of consuming uncontaminated food, so mulberry leaves must not be sprayed with any chemicals, not even the faintest trace of pesticides," explained Ngo Hoang Hai, a farmer in Phu An Hamlet, Duc Hiep Commune.
Mulberry silkworm farmers work tirelessly day and night until the silkworms form their cocoons. However, the prices of cocoons are highly unpredictable. In 2022, the prices of dried cocoons were merely VND70,000-VND80,000 per kilogram. This year, although the prices have increased, they still stand at only VND170,000-VND190,000 per kilogram.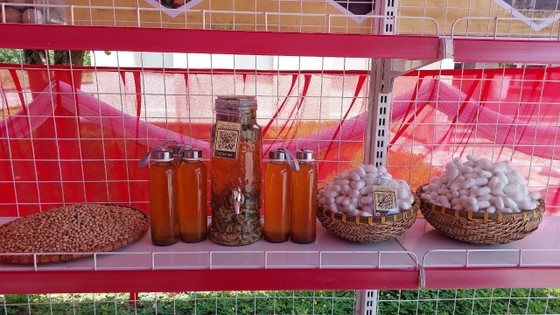 Silkworm cocoon is a typical product of Duc Hiep Commune in Mo Duc District of Quang Ngai Province.
Many individuals could not withstand the challenges of this profession and left their hometowns to pursue other careers. However, there were also many who grew weary and contemplated abandoning the profession, only to eventually return.
Hai himself, at one point, left the trade and ventured into various jobs, but he ultimately came back to his hometown and reemerged in his previous occupation. He shared, "I changed professions three times, yet I always found myself returning to my roots."
Every two months, Hai nurtures three batches of silkworm cocoons, resulting in an approximate yield of 25kg of dried cocoons per batch. These cocoons are sold at a rate of VND170,000 per kilogram. Despite the hardships involved, silkworm rearing also generates income. Through these three batches, he can earn a profit of VND7-8 million.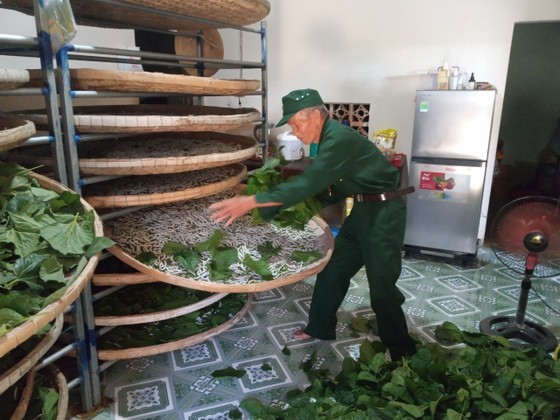 Only the elderly still engage in mulberry silkworm farming.
According to Mr. Ly Phat, Chairman of the Farmers' Association in Duc Hiep Commune, "Last year, there were still 23 households involved in the cultivation of mulberries and raising silkworms. However, the historically low prices of cocoons led many people to abandon the profession. This year, only around ten households are remaining in the industry, with the majority concentrated in Phu An Hamlet."
Mulberry fields up to 20ha wide are also gradually replaced by biomass corn, the mulberry growing area is shrinking, and each household only keeps 1,500-2,500 square meters of mulberry trees.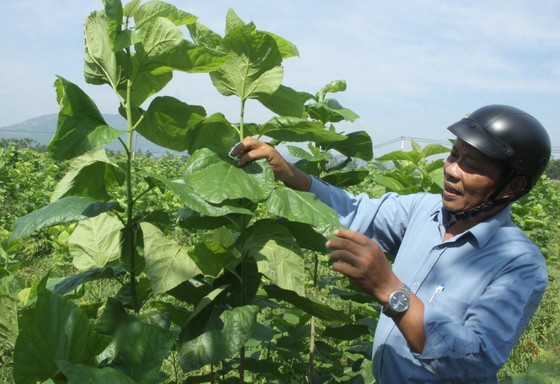 Phat visits a mulberry field.
According to Mr. Phat, mulberry silkworm farming is now less time-consuming. Previously, the rearing cycle was about 25 days, but now the silkworm supplier has nurtured larvae into silkworms, so it only takes 10-15 days to yield silkworm cocoons.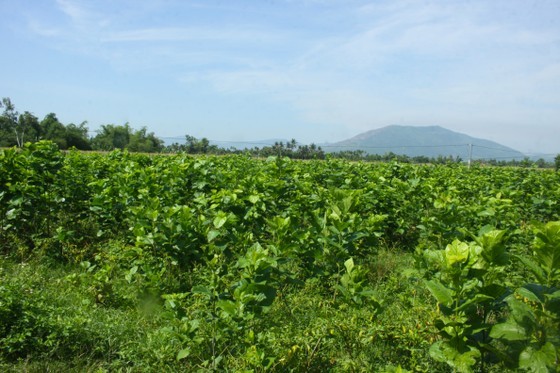 A mulberry field
Sharing about the difficulties of mulberry silkworm farmers, Mr. Phat said that, at present, there is only one establishment that collects silkworm cocoons in Binh Dinh Province, and they also provide silkworms. Therefore, silkworm cocoon prices, as well as the timing of purchases, are decided by them. There were times when the prices were exceedingly low.
To revive and advance mulberry silkworm farming, farmers have recommended the provision of equipment support, incentives to encourage participation in silkworm farming, and access to a viable market for silkworm cocoons.