Vietnam's exports to Italy reached US$2.5 billion in the past 11 months, surging 18.2 percent against the same period last year, according to the Ministry of Industry and Trade.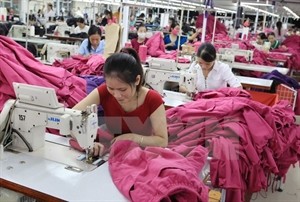 Illustrative image (Source: VNA)
Among the key Vietnamese exports to Italy included handsets and components, which totalled US$913.4 million, up 9 percent year – on-year and accounting for 40 percent of the total, followed by footwear at US$238 million and coffee, reaching US$211 million.
Also, from January to November Vietnam's imports from Italy reached US$1.19 billion.
According to the ministry, Italy is Vietnam's eighteenth largest export market and fifteenth largest import market. In recent years, Vietnamese exports to Italy saw an annual growth rate of 19 percent.
Italian companies remain interested in Viet Nam, a growing market with untapped co-operative opportunities and high consumption demand, according to Raffaella Carabelli, president of the Association of Italian Textile Machinery Manufacturers, as quoted by Vietnam News Agency.
These firms were also seeking new partners in Southeast Asia in such areas as textiles, garments, furniture and footwear, Carabelli said.
Meanwhile, Deputy Head of the ministry's Trade Promotion Agency, Ta Hoang Linh, said over the past three years many delegations from Italian businesses had visited Vietnam to study the country's investment climate and seek out new business opportunities. Recently in November, a delegation of some 100 Italian companies involved in sectors such as engineering, energy, infrastructure and transport, arrived in Vietnam to explore new investment opportunities.
Of note, trade experts forecast that the Vietnam – EU Free Trade Agreement, which was expected to be signed in the near future, would open a new page for bilateral trade between Vietnam and Italy.