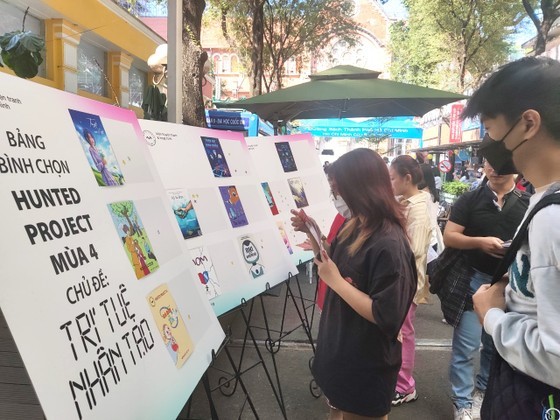 Visitors at the exhibition
The strong development of artificial intelligence (AI) has brought great exploitation potential for users, but also caused many controversies and concerns in the field of content creation, art creation and painting.
The exhibition of Comics - Digital Painting with the theme 'Artificial Intelligence' organized by the Comic Media Academy has introduced to the public 13 works with diverse forms of comic books and digital painting. By exploiting current interesting topics, the event brings AI-related perspectives from young artists studying at the academy.
With a well-thought-out approach and gentle content, the work of Ca rot va Tho (Carrots and Rabbits) of the Milk Tea Buffet group was awarded the Golden Super Product by the Professional Council. The Silver Super Award was given to group Gaoo for the work of Thap nhi binh chien (Twelve Warriors). The group Euphoria received the new discovery award for Mom work. Communication Award was given to Giao Lien group.
In particular, the work of Carrots and Rabbits of the Milk Tea Buffet group will be invested by CMA Studio to publish to the market.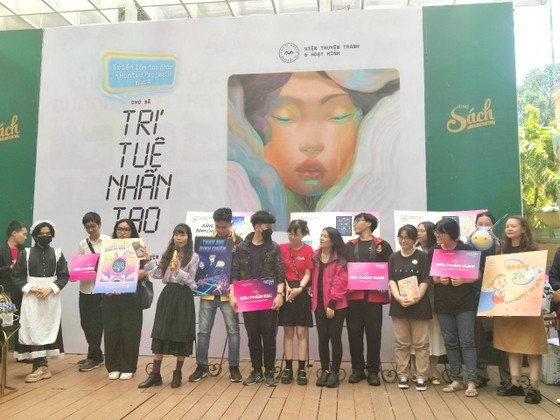 Authors of winning works are given prizes
In addition, the works participating in the exhibition also have the opportunity to receive awards through votes from visitors, helping the exhibition authors to understand the tastes of the market. The Gold Super product was awarded to the Gaoo group, the Silver Super product was awarded to the Rubik Group and the Euphoria group received the Bronze Super product.
Mr. Le Thang, Director of the Comic Media Academy, revealed that students only had one month to receive the topic and complete it. When receiving the topic 'Artificial Intelligence', many of them were interested in the topic whereas many of them did not know what AI is.