November floods have caused mass scale destruction in the Central Region, which now is dealing with losses in billions of dong, destroyed agricultural fields, breached irrigation systems, a huge shortage of seeds, besides loss of many lives.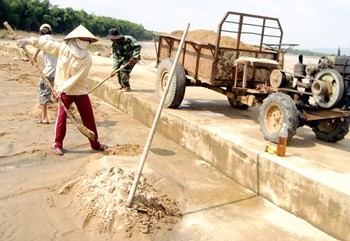 People shovel sand from the top soil of fields in Dai Cuong Commune, Dai Loc District, Quang Nam Province (Photo: SGGP)
Floods have brought in masses of sand into rice fields in Dai Loc District of Quang Nam Province. Over 188 hectares of agricultural land now looks like a sand bank, up to half a meter of sand in some places.
All vegetables seeded for the coming Tet have been swept away, said 53-year-old Tran Xang while removing sand from his field with a shovel on a sunny afternoon in My Phim Field of Dai Cuong Commune. All that is left is sand, he lamented.
Other fields in Bau Tron, My Hao and Dai Hung along the Vu Gia River in the district are also in a similar condition.
Vo Thi Thuy Nguyet, chairwoman of the People's Committee in Dai Cuong Commune said that farmers have switched to cultivating plants that can grow on sand. However, this is just a provisional solution, according to Nguyet.
Seed shortage is also a problem, a regular occurrence each year at the end of the flood season.
Phan Duc Tinh, deputy chairman of Dai Loc District said that they have proposed to concerned authorities to assist farmers with 100 tons of rice, ten tons of vegetable seed and 200,000 forestry plants.
Severe shortage of rice seed is a huge problem in Thua Thien-Hue Province as the entire reserved seed stock has been damaged during the floods, said Tran Kim Thanh, deputy director of the Department of Agriculture and Rural Development.
The provincial People's Committee has proposed to the central government to give farmers 500 tons of rice seeds and five tons of vegetable seeds to resume sowing for the winter spring crop. The province also needs aid of about VND150 billion (US$7.1 million) to repair or fortify the irrigation and dyke systems.
According to Ho Dang Vang, director of the agriculture department, flooding has caused damage to about 35 kilometers of dykes in the province and over 33 kilometers of canals, which are now filled with sand deposits.