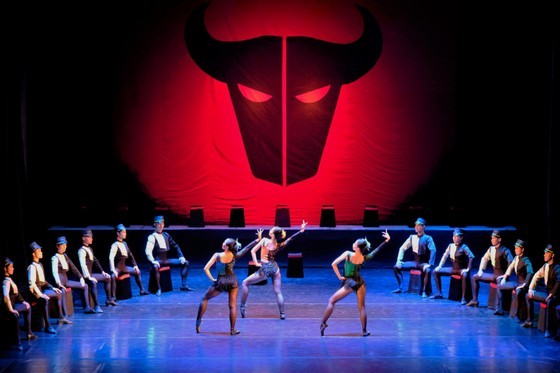 A scene in the Carmen Suit ballet by HBSO
Carmen Suite is a one-act ballet created in 1967 by Cuban choreographer Alberto Alonso, on music written by Russian composer Rodion Shchedrin, based on the four-act performance of Georges Bizet's opera, Carmen.
Georges Bizet's opera, Carmen is one of the most famous, successful and most operas in the world's musical history. The epic story is about beautiful but fiery gypsy girl Carmen, who finds herself in the midst of a love triangle between her boyfriend Don Jose, an army soldier, and bullfighter Escamillo.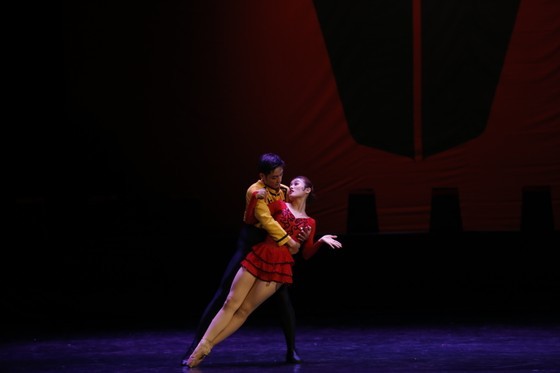 Dancer Nguyen Thu Trang and Meritorious Artists Ho Phi Diep in the performance
Early critics did not appreciate the use of distinct styles to tell an already familiar story. Audiences then began to love it and the ballet Carmen Suite has become the most famous work of Rodion Shchedrin and performed throughout the world more than fifty years later.
The performance's creativity connects with audiences of different cultures due to the timeless story focusing on love, freedom and choices regardless of their consequences that people implement in the name of romance.
The performance of the ballet Carmen Suite in HCMC is choreographed by People's Artist Kim Quy and performed by artists of HBSO, Nguyen Thu Trang, Meritorious Artists Ho Phi Diep and Dam Duc, Dang Minh Hien, Thach Hieu Lang, Do Hoang Khang Ninh, La Man Nhi, Bui Thanh Ngan and others.
As part of the program, audiences will enjoy two dance pieces featuring the neoclassical style, "Dépaysement" and "Falling Angels" choreographed by Julien Guérin and Nguyen Phuc Hung.