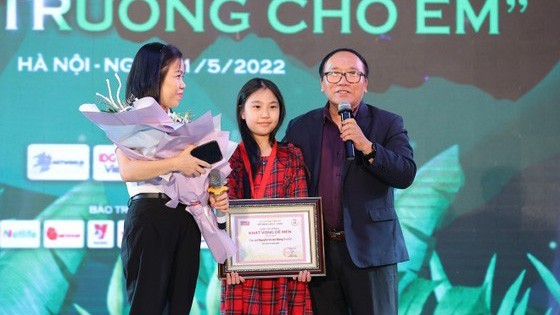 Nguyen Vu An Bang, 9, a 4th grader of the Quynh Loi Primary School in Hanoi is honored with the 3th De Men (Cricket) Arts Awards for Children 2022. (Photo: SGGP)
The entries can be sent to the email: giaithuongdemen@thethaovanhoa.vn or the Thao & Van Hoa (Sport & Culture) Newspaper at 11 Tran Hung Dao Street in Hoan Kiem District, Hanoi from now until April 4. The award ceremony is scheduled to take place on Children's Day, June 1.
Launched in 2020, De Men Arts Awards for Children aims at promoting and honoring works dedicated to children. The entries can be in one of several forms like literature, cinema, music, arts, theatre, photography, comics, traditional games, or electronic games. The awards will include one grand prize named 'Cricket Knight' and others, 'Cricket Desire' honoring excellent compositions, art performances and entertainment programs created by children themselves or for children.
Children's bestselling author Nguyen Nhat Anh was honored with the Cricket Knight prize for his work "Lam ban voi bau troi" (Make friends with Sky) at the first De Men (Cricket) Arts Awards for Children 2020. Meanwhile, 14 "Cricket Desire" awards went to artists at home and abroad, including four children authors over the past three years.
De Men (Cricket) is named after the main character in the famous Vietnamese children's story, De Men Phieu Luu Ky (Diary of a Cricket) by To Hoai. This is one of the most popular stories of Vietnamese children for many generations.