NEW YORK, Oct 14, 2011 (AFP) - Anti-Wall Street protesters vowed a pre-dawn show of strength to prevent their eviction Friday from the Manhattan square that is the symbolic epicenter of their fledgling but growing movement.
New York Mayor Michael Bloomberg went in person to reassure the protesters on Wednesday evening that demonstrations could continue after a clean-up ordered by the square's private owners.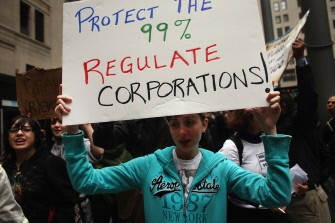 AFP - "Occupy Wall Street" protesters march in front of the Chase Manhattan Bank headquarters on October 12, 2011 in New York City.
But New York police chief Ray Kelly set the stage for a Friday morning showdown when he indicated that the protesters would no longer be allowed to carry on camping out in Zuccotti Park, in the heart of the financial district.
"After it's cleaned, they'll be able to come back," Kelly said. "But they won't be able to bring back the gear, the sleeping bags, that sort of thing will not be able to be brought back into the park."
"This is it -- this is their attempt to shut down #OWS for good," the Occupy Wall Street movement warned on its website, urging supporters to flock to the square, renamed "Liberty Plaza," no later than 6:00 am (1000 GMT).
"For those of you who plan to help us hold our ground -- which we hope will be all of you -- make sure you understand the possible consequences. Be prepared to not get much sleep. Be prepared for possible arrest."
A small band of protesters began camping out in Zuccotti Park almost a month ago, on September 17, preaching an anti-capitalist message that was amplified by the ever-present media and resonated in an America gripped by high unemployment and still struggling to emerge from a painful recession.
Sister protest groups have sprung up in other major US cities and former US vice president turned climate-change activist Al Gore on Thursday became the latest high-profile name to throw his support behind the movement.
Up to 600 protesters have been camping out overnight in sleeping bags and tents in Zuccotti Park, and the occupation shows ever more signs of permanence: food stalls have sprung up, an infirmary, an information desk, even a library.
But protesters have no toilet facilities of their own and depend on local restaurants, including McDonalds. As their numbers have grown so have the reports of locals complaining about people urinating in the streets.
Representatives of owners Brookfield Property descended on the square on Thursday morning with police and dogs, handing out notices to remind protesters that camping and use of tents and other structures was forbidden.
Brookfield has set a deadline of 7:00 am (1100 GMT) on Friday for the protesters to begin moving out and let the cleaning begin.
"Conditions in the park have deteriorated, presenting health and cleanliness issues which must be addressed," the owners said in a statement.
The park "will be reopened to the public for lawful uses consistent with our regulations," the statement said, fueling protesters' fears that something more sinister is afoot.
"It's horrible, they want to put an end to this experience. They want to kick us out," said 21-year-old protester Seth Harper. "I don't want to be arrested. But I think a lot of people are going to fight."
Protesters, who deny there are any health issues and say they tidy the square daily, conducted a thorough clean-up on Thursday to try to forestall intervention by the city authorities.
"We won't go! We won't go!" chanted some as others swept up litter and folded tarpaulins into neat bundles.
A message on the movement's website suggested the protesters might heed Friday's evacuation order if given assurances.
"Make sure your items are together and ready to go (or already out of the park). We are pursuing all possible strategies; this is a message of solidarity," it said.
Democratic congressman for Lower Manhattan Jerrold Nadler urged Bloomberg to seek an accommodation with the protesters, saying their rights and the needs of the community were not mutually exclusive.
"There should be no need for the police to execute a mass eviction if the parties can work together to clean and maintain the park," he said.
"The city has no rational basis for preventing people who are peacefully using a public space to speak, write, or otherwise communicate their views."
Bloomberg has pledged to let protesters stay at Zuccotti Park so long as they respect the law, but the nationwide movement has already had several run-ins with the authorities.
At the end of last month more than 700 protesters were arrested for blocking weekend traffic on the Brooklyn Bridge in New York.
Some 700 police in Boston launched the biggest crackdown so far on the movement in the early hours of Tuesday morning, descending on parks to arrest more than 100 protesters for unlawful assembly.
A poll by Time magazine showed 54 percent of Americans had a somewhat favorable or very favorable view of the protesters. Some 23 percent disapproved and the remaining 24 percent of those surveyed were undecided.