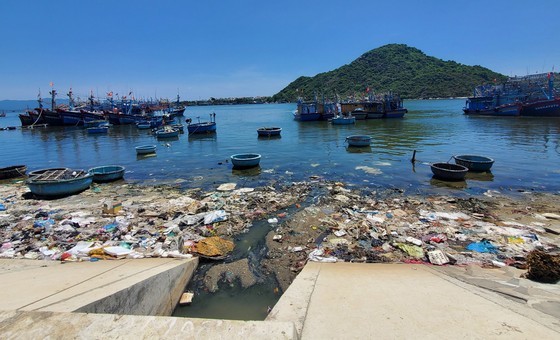 Waste accumulates in vast garbage patches at sea estuary
Coastal areas, estuaries and fishing ports in Quy Nhon and De Gi cities in the Central Province of Binh Dinh are becoming hot spots for plastic accumulation which is polluting the water and ecological environment.
Local people moaned that garbage is overflowing at the De Gi fishing port area in Phu Cat District of Binh Dinh Province. Along the embankment route adjacent to the De Gi fishing port through An Quang Dong and An Quang Tay villages in Cat Khanh Commune is surrounded by all kinds of household waste.
At many points, garbage is piled up from the embankment to the water surface of the De Gi estuary, most of which is plastic waste and indecomposable plastic bags.
At the canal bordering the two villages of An Quang Dong and An Quang Tay, dozens of squid production facilities are surrounded by squalid houses filled with garbage. People dumped waste into this canal which has turned into a foul creek of black water.
Many fishermen and workers are loading and unloading seafood and blatantly discharging garbage and plastic bags into the estuary water even though there are trash cans on the premises of the De Gi fishing port.
In the bordering area to the east of the De Gi fishing port, there is also a large landfill overflowing to the water surface.
Most of the waste along the De Gi fishing port area is domestic waste of households in two villages An Quang Dong and An Quang Tay, especially of about 60 households producing squid. In addition, fishermen have also discharged waste in the estuary.
Many households in An Quang Dong village complained that due to the slow collection of the sanitation company which only collects twice a week, residents have let sewage into the canal and dumped garbage in the estuary.
Similarly, in the area of ​​Quy Nhon estuary extending from Quy Nhon fishing port to the port channel where fishing vessels are anchored in Hai Cang ward of Quy Nhon City, garbage is seen everywhere.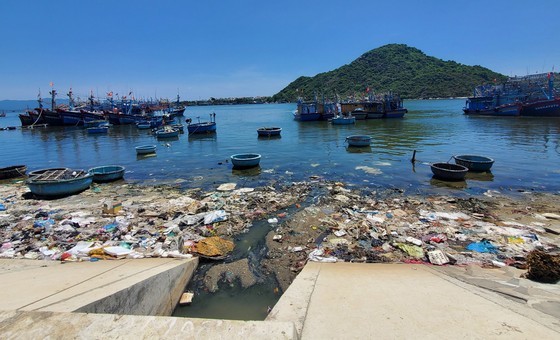 Vast accumulations of difficult-to-decompose waste in the De Gi estuary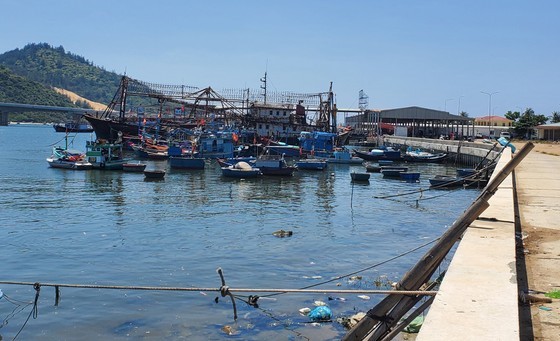 Garbage is floating in Quy Nhon fishing port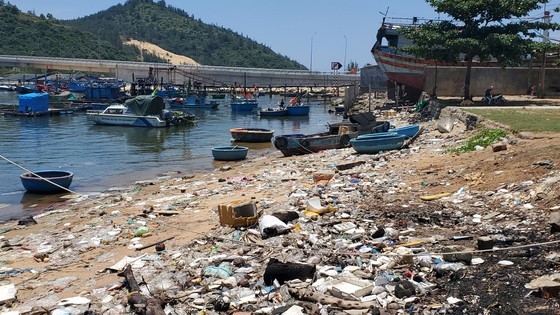 Solid waste is directly discharged to the sea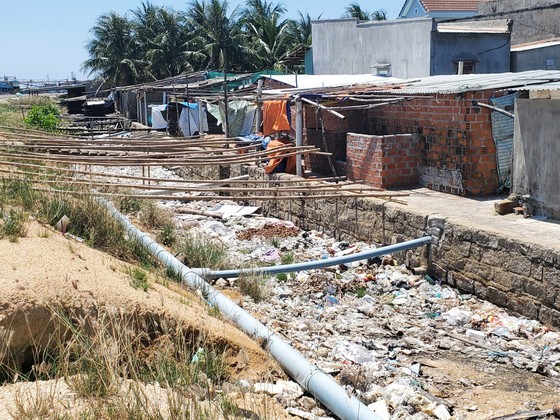 The canal turns into a garbage channel along the squid processing facilities in An Quang Dong and An Quang Tay villages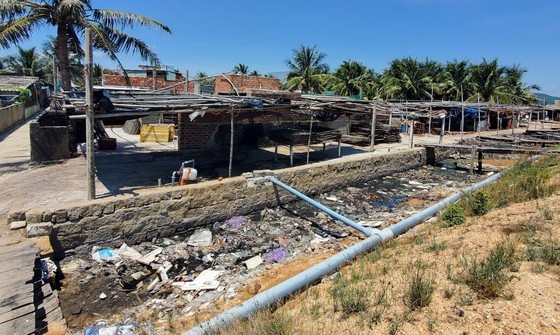 A stench garbage canal
On May 16, despite heavy rains, a large amount of waste existed around the Quy Nhon fishing port area. Garbage drifted and landed in fishing boat mooring areas, existing in yards on the water's surface.
Talking about garbage "poisoning" De Gi estuary, Mr. Nguyen Trung Hieu, Vice Chairman of Cat Khanh Commune People's Committee said that the commune People's Committee has signed a VND 10 million contract with a waste company to collect garbage in the De Gi estuary area. About 90 percent of local inhabitants agreed to pay waste collection fees; however, many households still keep the habit of dumping garbage into the sea estuary.
Mr. Hieu added that in the coming time, the local administration encouraged people in An Quang Dong and An Quang Tay villages and especially squid-producing households not to discharge waste into canals and estuaries. Because the local government has not found a centralized planning area for squid processing facilities, so it's very difficult to handle it.
According to Mr. Hieu, waste is also generated from the operation of the De Gi fishing port and anchored boats when entering the port. However, the De Gi fishing port only cares about collecting garbage in the port whereas the management board of the fishing port has not worked closely with the local government to collect waste in surrounding premises to minimize marine waste.