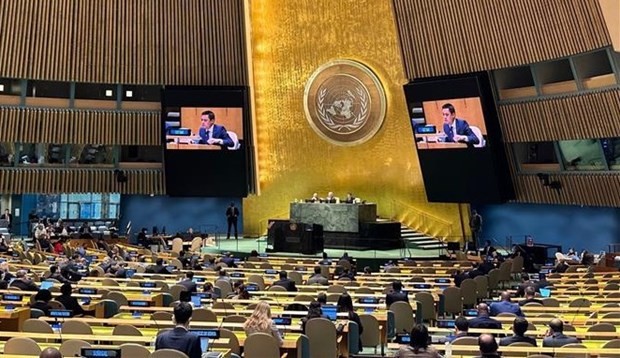 Ambassador Dang Hoang Giang, Permanent Representative of Vietnam to the United Nations, speaks at the plenary. (Photo: VNA)
Attending the 77th UN General Assembly (UNGA 77)'s plenary on Secretary-General António Guterres's priorities in 2023, the UNGA 77 Vice President also called on the international community to join efforts to implement the sustainable development goals (SDGs), the 2030 Agenda and other global commitments and priorities, through respecting the UN Charter and international law.
It is important to address conflicts by peaceful means, boost multilateral cooperation, strengthen financial support and reform of the international financial system, ensure resources for sustainable development, and pay more attention to climate change and justice, he emphasised.
The diplomat also reaffirmed the country's backing for the UN Secretary-General's role and efforts, and its commitment to maintaining close collaboration with other UN member states.Guterres expressed his concerns about the complicatedly developing world situation, with multi-dimensional challenges from the lingering effects of the Covid-19 pandemic, competition among powers, conflicts in many regions, poverty, inequality, and climate change.
He emphasised that in the coming time, the international community needs to strengthen coordination of actions, make efforts to find creative solutions, on the basis of the UN Charter and international law to promote sustainable development, and prevent and resolve conflicts for the benefits of the future generations.